The heads of the major South Korean companies expressed interest in the project of the Areas of Advanced Development in the Far East of Russia. Picture: teksyndicate.com
The jargon refers to Areas of the Advanced Development (AAD) but behind this bureaucratic patois maybe the device that finally kickstarts the economy in the Far East of Russia. The eastern edge of Siberia will lead the way for such areas - offering huge tax incentives - in an attempt to woo investors, says the Russian government.
Legislation teeing off the scheme is now rushing through the State Duma, or parliament.
Alexander Galushka, minister for development of the Russian Far East, predicted these new development areas will become a central mechanism for economic development of a vast region full of as yet untapped potential. His aim in mapping out the new plan has been to ensure global international competitiveness and appropriate investment conditions for the business in the Far East of Russia in comparison with Asia Pacific countries.
Significantly, he announced: 'The heads of the major Japanese companies like Sumitomo, Kawasaki, Hitachi, Mitsubishi, Mitsuei personally expressed interest in the project of the Areas of Advanced Development in the Far East.
'The same applies to heads of major South Korean companies like Samsung, Lotte, LG, Daewoo who also repeatedly confirmed interest in the project'.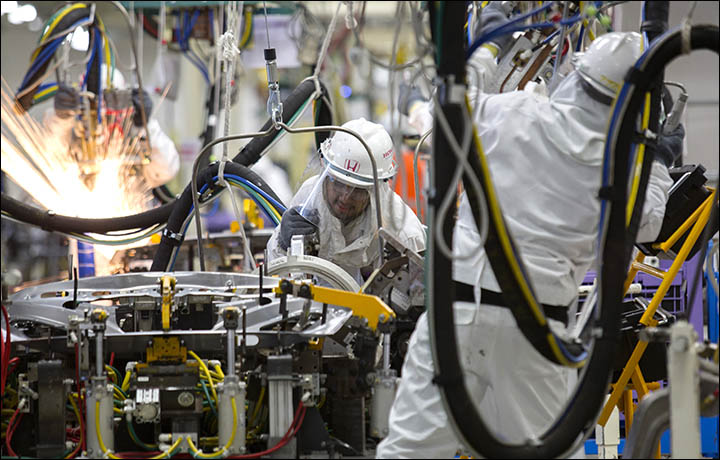 'VAT compensations, no limits regarding the number of foreign employees'. Picture: The Japan Times
Two core ideas are behind the scheme - deregulation and tax reduction. Residents will qualify for profit tax benefits. For example, the federal tax rate will be 0%, while regional levies should be no more than 5% in the first ten years, later rising to 10%.
'Moreover, it is proposed to introduce 5-year tax holidays regarding a mineral extraction tax and taxes on land and property, as well as insurance contribution benefits - the rate will total 7.6% concerning companies becoming residents during the first three years since establishment of advanced development areas,' said Rossiiskaya Gazeta.
'Other benefits will be related to rental rates and the link to engineering systems'.
'Besides, they will include speeded-up VAT compensation, curtailed scheduled and non-scheduled inspections of residents (up to 15 and five days respectively), no limits regarding the number of foreign employees. The bill is due to be completely drafted in two weeks.'
Prime Minister Dmitry Medvedev, speaking at a government meeting, called for a focus on the establishment of industries that are not related to the production and export of raw materials.
'The change we have been promoting in the Russian Far East requires different economic dynamics for the region,' he said. 'The Russian Far East, understandably, needs strategic investors; investors, for their part, need a normal business environment.
'What exactly is a business environment? It primarily has to do with administration, a tax regime and business involvement. This being the case, we will still have to look to our neighbours, because this is a single region when it comes to investment'.
---
'The Russian Far East, understandably, needs strategic investors', Prime Minister Dmitry Medvedev said
Pacific Rim countries that Russia wants to emulate 'have climbed to a very high level in this regard and have done a very competent job creating an investment climate. We should at least try to approach these indicators. We should facilitate the establishment of export-oriented non-resource businesses that, on the other hand, are oriented to import substitution.'
He urged: 'We should try to remove infrastructure restraints that abound in the region because of its remoteness from central Russia; and, of course, we should recruit skilled personnel and create new jobs'.
Declaring the Russian government's willingness to listen, Medvedev said: 'It is important that the interests of the investors themselves should serve as a major criterion for listing specific regions among the accelerated development territories, because we can create whatever we want, but that doesn't mean that investors will go there.
'We should select various projects for specific investors and potential users. We need to launch dialogue with those specific companies which already operate or which are ready to start working there. Of course, we have to inform investors on the market and demonstrate our advantages. And we should also try to create such advantages if they are still lacking.'
Deputy Director General of the International Centre for Regional Development Oleg Stolyarov, commenting on the desire to copy this model: 'The tax cuts are not that important. The main thing is a strategy for the development of such areas, and there are no people who could select investors and to create conditions for them'.