The new spacesport will reduce Russian dependence on the Baikonur cosmodrome leased from Kazakhstan for $115 million per year. Picture: Dmitry Medvedev's Facebook
Manned space missions are due to start from Vostochny spaceport, Amur region, in 2018, but an unmanned flight of a Soyuz-2 carrier rocket is due much sooner, in December 2015. The vast operation of building a modern spaceport with a linked futuristic scientific town built from scratch for space industry intellectuals is seen as crucial to boosting the economy of the Russian Far East.
There can be 'no excuses' for failure to meet the schedule, said Rogozin, who is in overall charge of the space and defence industries. With the huge Sochi Olympic project now complete, the new launch site becomes the country's signature venture, he said.
'Amur region is being transformed thanks to the spacedrome,' he said. 'The Olympic Games are over, now this facility [the Vostochny spaceport] becomes a priority,' he made clear on a visit this week. This means overcoming construction problems that have hampered the trademark development, seen as vital to Russia's aims of exploiting its leadership in space technology.
'Builders told the deputy prime minister that a deficit of skilled personnel was the main problem of the Vostochny project: the inferior quality of works slowed down the entire process,' reported Interfax, referring to state agency SpetsStroy which is overseeing the massive scheme.
'This means Spetsstroy must assign its own personnel for special-purpose sites and the civilian sites must employ those who built the APEC and Sochi facilities,' said Rogozon. 'They will have to be transferred. Only 5,000 people are building the spaceport. Independent experts say that the number of workers employed in Vostochny should grow manifold, at least to 15,000'.
This is around double the number previously earmarked for the end of 2014.
'You should think about the construction of not only the launch sites but also of the new town, Tsiolkovsky', Rogozin told contractors at a conference dedicated to the project. 'Vostochny is a point of growth for the entire Russian Far East, a breath of fresh air for the Far Eastern region. It will not just provide for the space independence of Russia; the new town will accommodate space industry intellectuals'.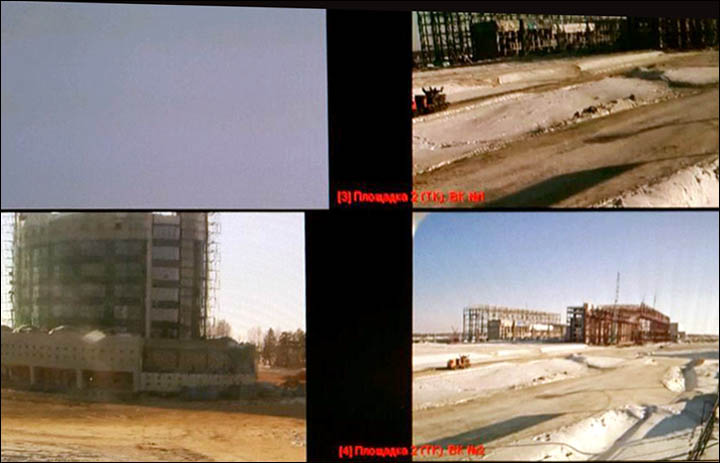 'There can be 'no excuses' for failure to meet the schedule'. Picture: Dmitry Rogozin's twitter
Rogozin urged builders to 'display iron discipline in their compliance with the schedule'.
'A Soyuz-2 launch vehicle is supposed to take off from here by the end of 2015, and we will not accept any excuses,' he warned. Builders engaged in the Vostochny project were ordered 'to tell the Russian government immediately about all problems they were encountering'.
The deputy prime minister has gone so far as setting up CCTV cameras around the Vostochniy complex so he can personally monitor progress - and spot slackers.
'Layabouts who barely walk about the building site should be aware that they are watched,' he warned. Rogozin has already posted images on his Twitter, though it showed no workers. He cracked the whip at the site after a series of delays and failures in meeting schedules, some caused by last summer's exceptionally heavy rainfall which led to floods in Amur region.
Investigators have detected no less than 800 legal violations, mainly of labour regulations, during checks on construction work at the space centre.
Deputy Prosecutor General Yury Gulyagin said more than 1.5 million rubles ($42,200) in back pay is still owed. He made clear disciplinary proceedings will be taken against 200 people. Gulyagin also said permits had only been granted for four out of 12 assets under development.
There are significant flaws in the monitoring of the quality of work, he said.
The Soyuz-2 launch site in Vostochny is designed for launches of Soyuz-2.1a, Soyuz-2.1b and Soyuz-2.1v LV carrying satellites and resupply ships.
The site will handle at least ten space launches a year.
Space symphony - picture here and on the front page taken by Fyodor Yurchikin, courtesy Russian Federal Space Agency
The Angara launch site will support Angara-1.2 light LV, Angara-3 medium LV and Angara-5 heavy LV. Initially, the Angara launch site will incorporate a launcher and infrastructure to support Angara LV carrying spacecraft.
Later it will provide satellite, oxygen-hydrogen upper stage and manned spaceship missions.
The new spacesport will reduce Russian dependence on the Baikonur cosmodrome leased from Kazakhstan for $115 million per year. Construction on Vostochny, over an area of 700 square kilometers, began in mid-2012 near the town of Uglegorsk.