There is an idea of an Aqua Park with Baikal water. It is now at the stage of a feasibility check. Picture: Alexander Lesnyanskiy
The aim is to attract Russian and foreign tourists to the world's oldest and deepest lake. The Disney-style ecological attraction is proposed by Russia's Natural Resources Ministry and would be built on the site of a notorious mill which was branded the main polluter of one of the planet's great natural creations.
'There is a Disneyland near Paris, there America shows quite aggressively its achievements in an attractive manner - and at our expense,' said Dmitry Sheibe, General Director of VneshEkonomBank Engineering. 'It is done in a really interesting way, specially the popularisation of 18th and 19th centurygold diggers'.
The Baikalsk Pulp and Paper Mill, built in 1966, has now closed with the loss of 800 jobs. Intriguing plans would see it replaced by a park, museum and hotel complex called The Baikal Center for the Promotion of Nature or Sanctity Russia.
'There is an idea of an Aqua Park with Baikal water. It is now at the stage of a feasibility check. A recreation zone with hotels and cottages would be planned as both part of the Aqua Park and a 'Russian Nature Reserve. Big names in development are interested in the project'.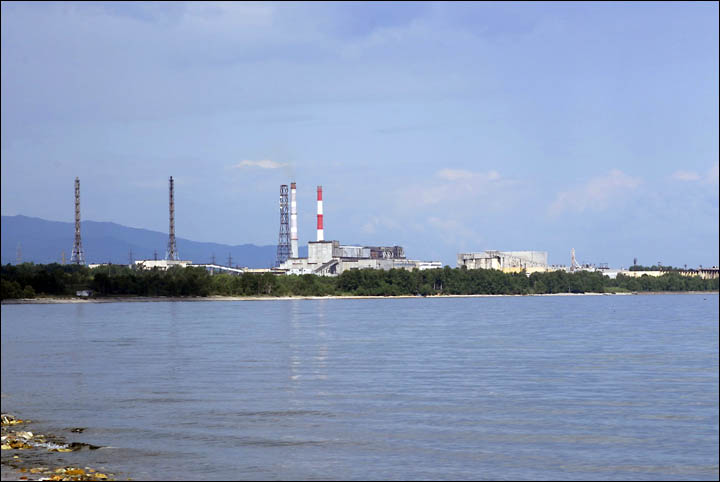 ---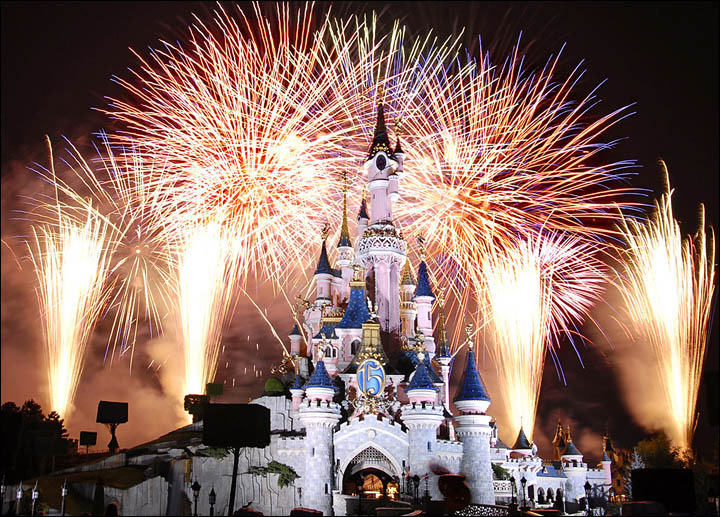 Trasformation ahead? Views of the Baikal Paper Mill and fireworks over one of the Disneylands
The mill site is on the southern tip of Lake Baikal, which holds 20 per cent of the planet's unfrozen fresh water. Plans for the theme park have been drawn up by the Strelka architecture and design institute in Moscow, which was behind the renovation of the famous Red October confectionary plant close to the Kremlin in Moscow.
Mr Sheibe wants to 'keep bits of the industry preserved, like boilers and cellulose brew house. Strelka people are creative and hopefully they will be able to play it up beautifully and turn negative sides into positives'.
It is predicted that the park will create 2,500 new jobs, with tourist flows exceeding 2 million annually. A major clean-up operation would be needed before the site could be redeveloped. The regions surrounding Lake Baikal are keen to boost tourism to the lake which - at 750,000 a year - are seen as low for one of the world's greatest natural treasures.
The Buryatian administration has especially developed the coast of the lake with a view to attract tourists. Not everyone is convinced, however.
'You can't swim in Lake Baikal in summer and in winter it's very cold,' said National Geographic Russia's chief editor, Alexander Grek, in The Moscow Times.
'It isn't especially rich in terms of wildlife. The Zabaikalsky steppe is very dull and foreigners rarely spend more than two days at the lake.
'The landscape is very beautiful, but I've been there twice and I don't feel a strong urge to go back'.
Some of our readers took the news of the lake Baikal's nature park in the most positive way, like Yulia Kolosova from the town of Bratsk in Irkutsk region, currenly residing in Australia.
'I just can't believe it - I'll definitely come over if you manage to do it, and I'll bring my friends alone. Hope we'll live to see that day. And you, Creators, I wish you to believe in your project and wish you to have enough energy to make it real, as well as all kinds of support and that unbeatable feeling of satisfaction from seeing results of your work'.
Some called the idea 'insane', like Kevin from USA: 'No, no, no. Leave it alone in it's pristine beauty. It is nothing less than insanity to propose such an idea.
'In the long run, the pure unpolluted nature of the area will more than compensate financially. Baikal is the middle of nowhere, that is the beauty of it! There is no infrastructure to import the hoards of people necessary to pay for such an amusement park. It will destroy one of the most beautiful areas on earth. Please, forget it!'
Any more opinions? Please get back to us with your arguments for and against the idea.