Built in 1927, the circuit, near Cologne, is famed for being one of the most dangerous in the world. Picture: AutoYa
SIBERIAN-educated billionaire Viktor Kharitonin has stepped in to save the iconic racetrack home to the German Grand Prix in a deal worth a reputed $100million (4billion rubles).
In a move signalling his growing status and influence on the international stage, the pharmaceutical tycoon has bought a majority stake in the financially-troubled Nuerburgring.
Built in 1927, the circuit, near Cologne, is famed for being one of the most dangerous in the world, with hundreds of drivers killed or injured during its nine decades at the pinnacle of racing.
Kharitonin is one of Russia's richest men, having built up his wealth through his Moscow-based drugs company Pharmstandard, which was founded with the help of fellow tycoon Roman Abramovich in 2003.
On Friday it was announced that his holding company had bought a two-thirds stake in Nuerburgring from car supplier Capricorn Group, with the remaining share held by GetSpeed management consultancy.
The deal came after Dusseldorf-based Capricorn failed to complete their own planned acquisition of the site in March after the previous owners became insolvent.
Kharitonin's purchase of the iconic race track, which will host the 2015 German Grand Prix, has made headlines in Europe and is likely to catapult the businessman into the limelight. A new entrant on the Forbes Rich List last year, with an estimated wealth of $1 billion, he is one of Russia's rising entrepreneurs.
Born in 1972 in Petropavlosk, he studied at Novosibirsk State University in Siberia and graduated in 1994. He began building his empire in 2003, when he joined together with billionaires Roman Abramovich and Evgeny Shvidler to buy five pharmaceutical plants and 96 retail pharmacies from ICN Pharmaceuticals for $55 million.
Formed as Pharmstandard, three years later it was the biggest pharmaceutical company in Russia and was valued at $2.2billion. Now worth more than $3billion, the firm produces Arbidol, a well-known medicine in Russia against the flu, as well as drugs for diabetes and infectious diseases.
Kharitonin has a 38 per cent stake in the firm, but Abramovich and Yevgeny sold their shares in 2008, making them a reported $821million from the company. The tycoon, who is the 1342nd richest person in the world, has enjoyed a good working relationship with the Chelsea FC owner over the past two decades.
In 1994 he founded investment company Profit House, which worked in the interest of shareholders from Abramovich's oil firm Sibneft. And earlier this year it was announced that Abramovich's own investment firm Millhouse was joining with Kharitonin to buy biotechnology firm Biocad.
In addition to providing Pharmstandard with a biosimilars – which are cheaper versions of brand-name drugs that have lost patient protection – Biocad also makes cancer chemotherapies and a multiple sclerosis medicine.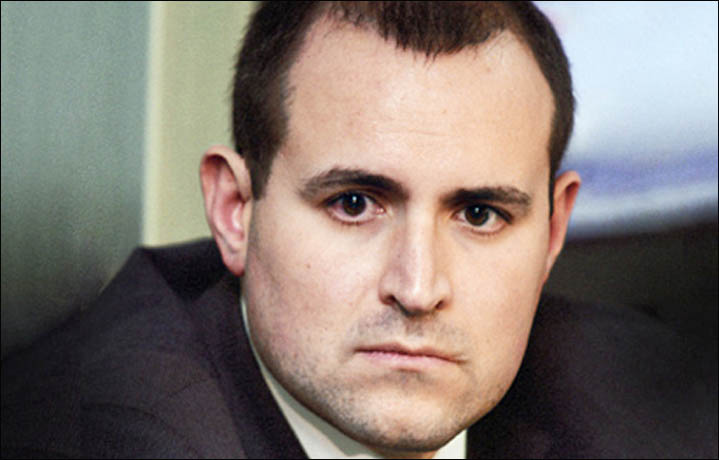 Viktor Kharitonin born in 1972 in Petropavlosk, studied at Novosibirsk State University in Siberia and graduated in 1994. Picture: Forbes
Like many of Russia's new-rich, Kharitonin has multiple properties around the world, including a lavish home at the exclusive One Hyde Park in Knightsbridge, London.
Dubbed the most expensive block of flats in Britain – with local shops including Harrods and Harvey Nichols – residents have access to a private spa, squash court, cinema, 21-metre swimming pool, gym, golf simulator and wine cellar.
Kharitonin's UK home features iris recognition in the lifts, panic rooms and bomb-proof windows, with neighbours including Ukrainian Rinat Akhmetov and the former Qatar Prime Minister Sheikh Hamad bin Jasmin bin Jabr Al Thani.
Reports in Germany say the Russian businessman will pay the final instalment for Nuerburgring next month. With a capacity of 150,000, it features a grand prix track built in 1984 and an older, and more dangerous, circuit opened in the 1920s which loops around the medieval castle of Nurberg.
At 12.9 miles long the old Nordschleife track has more than 1,000 ft of elevation change and was nicknamed the 'Green Hell' by ex-Formula One champion Sir Jackie Stewart.
Last week's $100million deal was welcomed in both business and sports communities, bringing an end to speculation over the track's future. Pietro Nuvolini, a spokesman for the administrator handling the sale, said: 'This is a positive signal for operators, customers and employees.'