Launched in 2011, Vietjet Air has a fleet of just 16 aircraft but with 100 on order, there are plans to turn it into a major force in Asia. Picture: Vietjet Air
It will soon be a case of 'Dobroye Utro Vietnam!' after the launch of new direct flights to the South East Asian nation. Vietnam's only privately-owned airline Vietjet Air will start taking passengers to the sun from Vladivostok in May next year.
Three flights a week will operate to the Vietnamese capital Hanoi with other routes to Ho Chi Minh City, Nha Trang, Danang, Hue and Phu Quoc beginning later next year.
Additional flights are also being lined up from more Russian cities, with the airline hoping to connect to other South East Asia countries, including Cambodia, Thailand and Singapore.
Launched in 2011, Vietjet Air has a fleet of just 16 aircraft but with 100 on order, there are plans to turn it into a major force in Asia.
The announcement was made following an agreement between the low-cost carrier and Vladivostok International Airport at the Vietnam-Russia Inter-Government Committee on Economic Trade and Scientific Technological Cooperation.
The new routes to the cities and beaches of Vietnam will not only boost tourism in both countries, but will meet the increasing demands for cargo transport and cultural exchanges.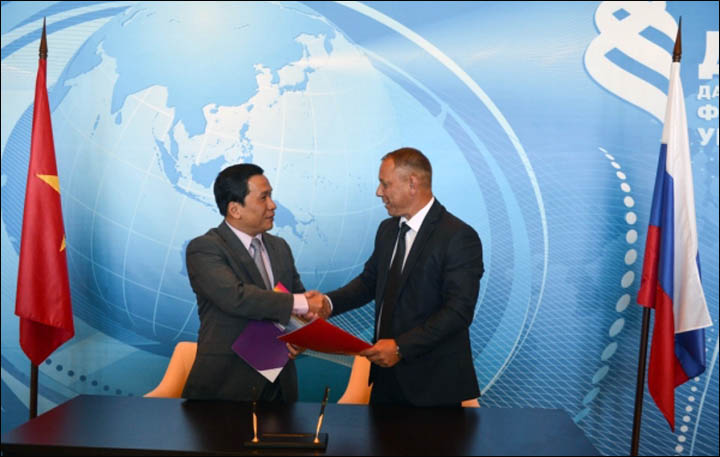 Director of JSC 'International Airport of Vladivostok' Igor Lukishin and Vice-President of Viet Jet Air airline Dinh Viet Phuong sign the memorandum on cooperation. Picture: OTV-Prim
It comes as major Russian airlines, such as Siberia-based S7 and UTair, are defying the economic gloom and showing rising passenger numbers and increased turnover. New figures from Russia's Federal Air Transport Agency show a rise of almost 14 per cent in passenger throughput for S7 Airlines for the first 10 months of this year.
A total of 6.8 million people used the carrier – the equivalent of 13.4 billion passenger kilometres – with cargo and mail handling also up by 3.8 per cent.
It was a similar picture for the UTair Group, with more than 9.1 million passengers between January and October, a rise of more than 10 per cent on the same period last year.
The carrier, which operates helicopters as well as aircraft, reported a healthy rise in mail handling, with an increase of 63.6 per cent since last year.
UTair was also named the most punctual airline at Novosibirsk's Tolmachevo International Airport, following similar accolades in recent years in Tel Aviv, Moscow and St Petersburg.
The figures make for better reading for the Siberian carrier, which last week was unable to pay loan bonds amid a 'temporary' financial crisis.
S7 President Oleg Semenov said: 'Our first ranked position in the rating has been achieved through the competent and coordinated work of Tolmachevo Airport services and UTair teams involved in the organization of passenger transport.'
There was good news for Aeroflot too, with passenger traffic up 13 per cent to almost 20 million passengers for the first 10 months of 2014. The company also boosted passenger turnover to 56.64 billion passenger-kilometres in the period.