'We are talking about the country's most important region. We have to put our efforts together working in this direction'. Picture: Kremlin.ru
Speaking in energy-rich Sakhalin, he blasted: 'We will prepare another set of orders, but from we had already agreed as our tasks on 26 December meeting, about 80% of them are not done. 'I want to ask you dear colleagues: Are you going to work or not? What is it?'
Apparently aiming his ire at federal and regional officials, he stressed new and postponed tasks in turning the Far East into an economic powerhouse for Russia must be carried out without delay even if it interrupts summer holidays.
'Once we have amended the task and agreed that it has to be done, it has to be done,' he warned his high-powered audience.
'We are talking about the country's most important region. We have to put our efforts together working in this direction. I ask you to finish the list of tasks we have been discussing, given the problems before the Far East of Russia and the Sakhalin, and then concentrate on completing them despite the summer holiday period.'
He told them bluntly: 'We have to work now.'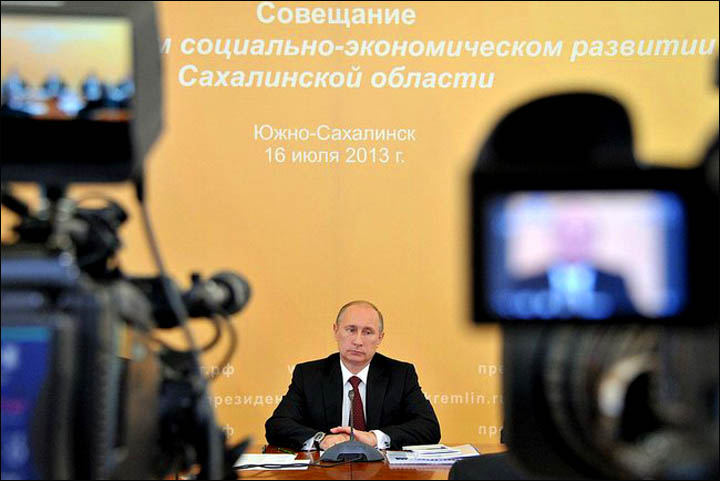 'Putin raps officials in Russia's 'most important region' for slow economic development'. Picture: Kremlin.ru
Some of the gridlock was in the government, he made clear, alluding to a planned on-off State Corporation to run major parts of the economy.
'For a whole year we have been talking about creating a corporation, talking and talking, organised and now it turns out that it is difficult and in some cases impossible to work there', he said.
Is it not the first time Putin criticises bureaucrats responsible for developing the Far East of Russia.
On Tuesday, stressed clear opportunities for the east of the country, long a Kremlin target but one that has been frustratingly slow to realise.
'Sakhalin's geographical location and the established ties with countries of the Asian-Pacific region create solid groundwork for setting up a world-level energy centre without exaggeration,' he said.
'The further development of such a centre and the increase in hydrocarbon production should be accompanied by the commissioning of new processing capacities, and the construction of modern companies of the oil and gas, and gas chemical, industries which will operate not only for foreign markets, but also for the domestic one.'
He stressed: 'The resource base should meet the demands of the region itself in full measure, ensuring stable and effective functioning of local companies and utilities.'
He spoke, too, of the need 'to ensure uninterrupted and safe transportation between Sakhalin, the Kuril Islands and Kamchatka'.
Russia's state-controlled oil giant Rosneft is ready to invest 1 trillion rubles ($30 billion) in the development of East Siberia and the Russian Far East in the next five years, announced Rosneft CEO Igor Sechin yesterday.