Novosibirsk is Russia's third city after Moscow and St Petersburg, and the largest in Siberia with a population of 1.47 million.
An educational, scientific, cultural and entertainment centre, it also has significant industry.
Today, Novosibirsk has a relaxed and unrushed feel with a burgeoning cafe culture which, in the hot summers, spills out onto pavements bedecked with colourful hanging baskets.
DID YOU KNOW THAT…
• In Soviet times, Novosibirsk was nicknamed the 'Chicago of Siberia' for its rapid population and industrial development; today it continues to be the fastest changing city between the Urals and the Pacific.
• During the Second World War, Novosibirsk housed some of the most valuable treasures on the planet. Evacuated for safe keeping from Moscow's Tretyakov Gallery were its fabulous paintings; Peter The Great's throne and Alexander Pushkin's manuscripts were just a small part of the Russia's gems kept in total secrecy behind the walls of as yet unopened Novosibirsk Opera and Ballet Theatre.
• The Opera House and Ballet Theatre is larger than the Bolshoi Theatre in Moscow; indeed, it is the biggest theatre in all Russia with high quality performances to match.
• Novosibirsk Glavniy railway station is the largest on the Trans-Siberian Line.
• Russian capital Moscow is closer to London in distance than it is to Novosibirsk.
• The time in Novosibirsk is plus 3 hours from Moscow, and plus 7 from Greenwich Mean Time.
• In 1962, Novosibirsk was the youngest city in the world with over one million people.
• In 1985, Novosibirsk became the first Siberian city with a metro system.
• The tiny and pretty Chapel of St Nicholas was reputed to mark the centre of the old Imperial Russian empire: destroyed in Soviet times, it is now rebuilt.
• An island in the Ob Sea is nicknamed Taiwan by locals: in winter you can walk to it across the frozen water.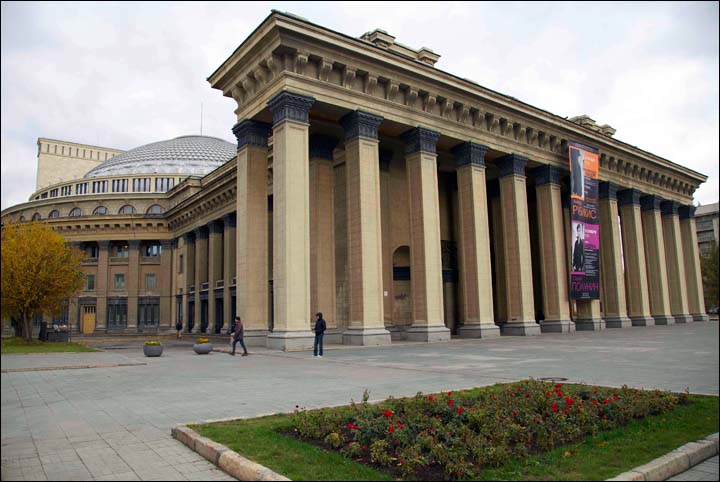 The biggest in Russia, Novosibirsk State Opera and Ballet Theatre. Picture: The Siberian Times
One of Novosibirsk's jewels is the remarkable satellite town of Akademgorodok, meaning 'Academic Town' and also nicknamed Silicon Taiga, located in an enchanting forest close to a vast reservoir on the mighty Ob River, known to locals as the Ob Sea.
The city is 3,666 km (2,278 miles) east of Moscow, the Russian capital, taking just over two days by train, or four hours by plane.
More modern than most Siberian cities, it marks only its 120th anniversary in 2013.
Originally Gusevka, a small village of labourers who built a crossing over the Ob River, the Trans-Siberian railway led to its rapid development as a trade and transport centre.
It was later known as Novonikolayevsk, in honour of both Saint Nicholas and Russia's last Tsar, Nicholas II, before becoming Novosibirsk in 1926.

Beginning of 20th century, and Soviet time pictures of Novosibirsk: the city centre beach, the airport, the parks and the Opera and Ballet Theatre
Novosibirsk is an important access point for the spectacular Altai Mountains to the south or mammoth river trips on the Ob through the vast Russian north as far as Salekhard.
It is also at the northern end of the Turksib railway which links the Trans-Siberian route with Almaty in Kazakhstan, making it a journey of 1,678 km, and beyond that into western China.
Have a look at Novosibirsk WHAT TO SEE page for some ideas both within Novosibirsk and also on a trip out to the satellite town of Akademgorodok.
In summers, when it can be very hot, or in the extremely cold but often sunny winters, the city is good for strolling, with plenty of pubs and cafes to wander into for those in need of a cooling, or warming, drink. While not everyone speaks English, if you need help, you'll usually find someone who does.

Hotel choice and standards in Novosibirsk are dramatically improving for business and budget travellers alike. The Doubletree by Hilton, opened in 2011, a pioneering new-build Western chain hotel in Siberia, offering all you would expect, with fabulous top floor gym, pool, and sauna facilities.
Hugely improved is the Azimut Hotel Sibir and the River Park Hotel, close to a remarkable winter ice park. If you prefer the more intimate atmosphere of a boutique hotel, try either the Garden Apple Hotel or the Boutique Hotel Nord Castle.
See Novosibirsk WHERE TO STAY listing, which also include more basic options for travellers wishing to rest for a night, and get a hot shower, after a few days on the train.

Whether you're here for work, or a quick respite from crossing Siberia by train, Novosibirsk has a wide selection of places to eat, drink and relax.
At the top end, in Akademgorodok, some half an hour drive south from the city centre is one of Siberia's finest restaurants, 'TBK Lounge', run by entrepreneur Denis Ivanov.
The Siberian Times also likes the feeling of 'La Maison' restaurant, conveniently situated in the very centre of Novosibirsk, at Sovetskaya street, with a nice romantic story behind the 1908 building, which the English-speaking staff would be glad to share with you.
We've had a try and enjoyed the quality of sushi and sashimi at 'Planet Sushi' — the part of Russian chain restaurant, also seen in the West of the country and across Siberia. Its sister restaurant 'Il Patio' is well-known for good quality Italian food.
Novosibirsk houses 'Old Irish', the first Irish pub opened east of Urals in 1997, and, surprisingly to many, six other pubs to cheer up fans of Kilkenny and Guinness.

You won't be lost for choice, and usually visitors from afar can expect a warm welcome.
Read more on Novosibirsk
WHERE TO EAT
page, which we will keep updating.
Old Irish, left, was the first pub to open this side of the Urals in 1997, while Travelers, pictured right, is relatively new but fast expanding chain of coffee shops across Siberia. Pictures: Old Irish, Travelers.ru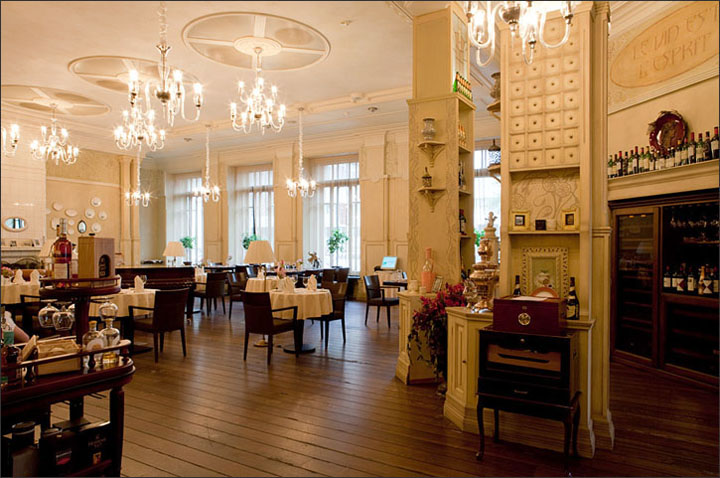 La Maison restaurant, well-known for its Old Russian and Classic French cuisine and good wine list. Picture: La Maison