Zorikto Dorzhiev's graphic sketch 'A Legend' was sold for $15,000 (990,000 roubles). Picture: Gallery Khankhalaev
A leading Siberian artist rubbed shoulders with Hollywood glitterati as some of his work was sold at a major charity auction to raise funds for Tibet.
Zorikto Dorzhiev, from Buryatia, was among the contributors who helped bring in hundreds of thousands of dollars for Tibet House, the Cultural Centre of the Dalai Lama.
Held at the Rockefeller Plaza, in New York, the glamorous event saw his graphic sketch 'A Legend' sell for $15,000 (990,000 roubles).
Among the other items sold by auction house Christie's were a dinner date with actress Uma Thurman, a signed guitar owned by the singer Sting, a personalised voicemail recording from actor Hugh Jackman and a VIP performance by the renowned pianist Philip Glass.
The annual charity evening, held on December 10, was organised by Tibet House, whose president is Columbia University professor Robert Thurman, Uma's father.
Uma, most famous for her role in Pulp Fiction, is also on the board of trustees of the organisation, which raises money to protect Tibetan culture and artefacts.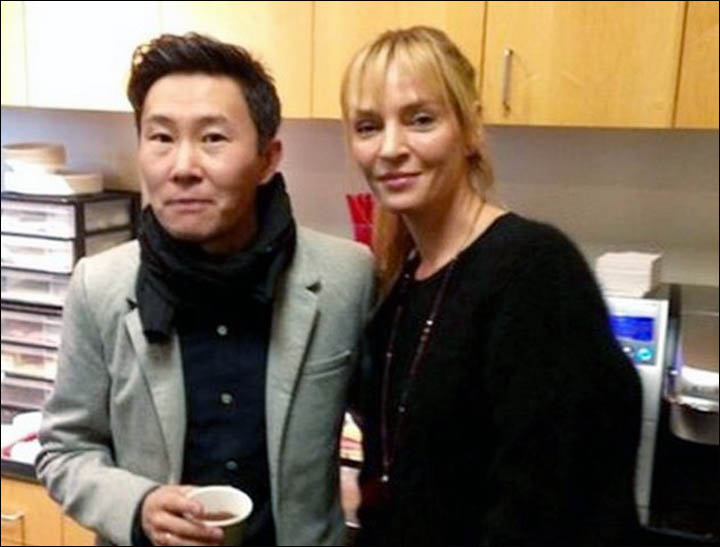 ---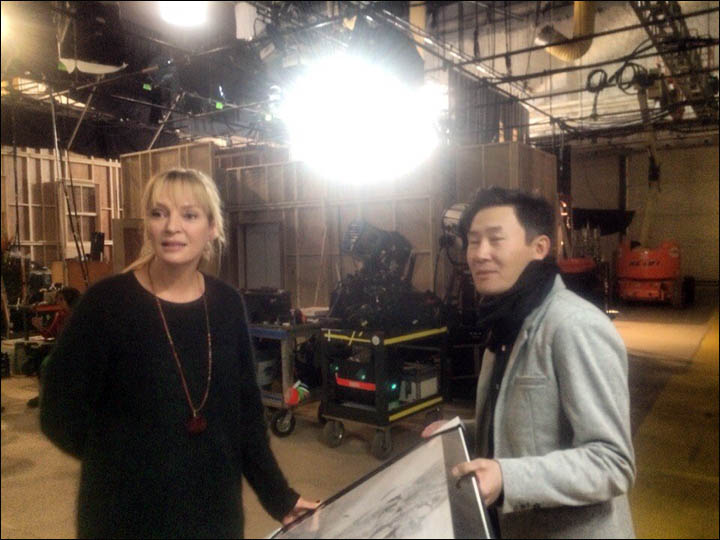 ---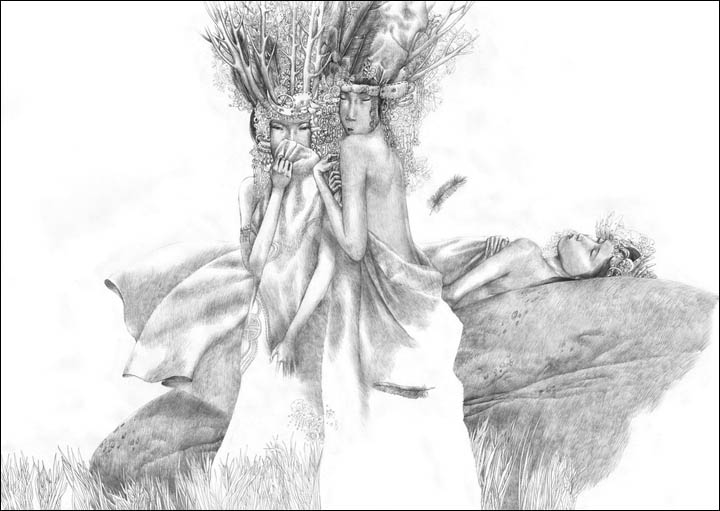 Dorzhiev brought with him a gift of another one of his graphic works 'Nymps' and gifted it to Uma Thurman. Pictures: Zorikto Dorzhiev, Gallery Khankhalaev
Dorzhiev is a long-time family friend of the Thurmans, who have supported him throughout his career.
It is the second time that his work has been sold at a Christie's auction, with his large oil on canvas 'Steppe Nirvana' selling for $40,000 (2.63million roubles) last year. When it was auctioned in New York, Uma Thurman personally presented the picture.
Dorzhiev brought with him a gift of another one of his graphic works for the actress, but she was unable to attend the event due to filming commitments.
Last year's sale at Christie's turned him into one of the most expensive contemporary Russian artists.
Nomadic Buryat life is the main subject of his work, with the artist himself saying that a nomad 'does not travel in around in search of a better life. He is rather an artist, a poet, a philosopher, and often a loner.'
One prestigious London gallery describes him as 'equally at home portraying sensuous females', with his iconic Mona Lisa Khatun dubbed the Madonna of the Steppes.
He has always insisted he does not care how much the works sell for – or even if they sell at all – but on simply putting his talent to use.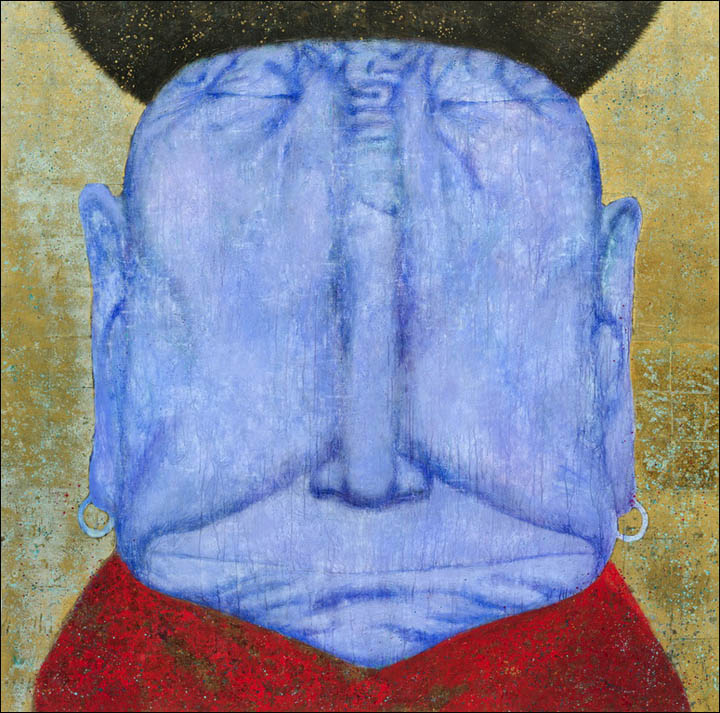 ---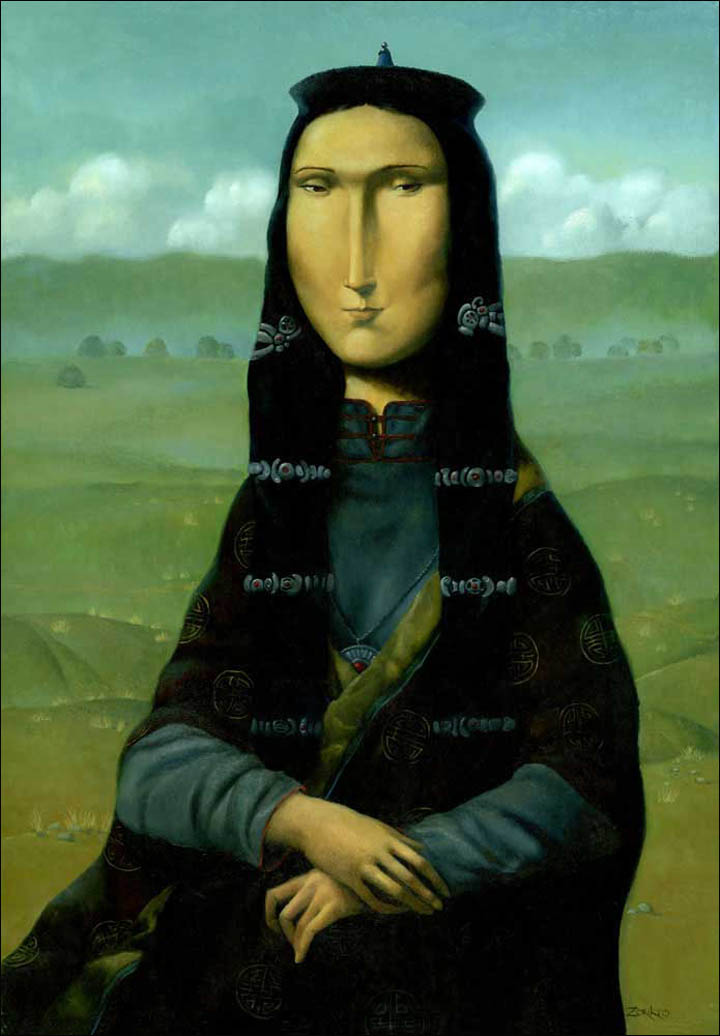 ---
---
Zorikto Dorzhiev's paintings, from top to bottom: 'Steppe Nirvana', 'Gioconda Khatun', 'Sunny Day', 'Present', 'Young Postman'. Pictures: Gallery Khankhalaev
Born in 1976 in Ulan-Ude, he graduated from the Krasnoyarsk State Art Institute in 2002 before returning to his home town to work as a painter and illustrator of children's books.
He also worked as a set and costume designer on the blockbuster movie 'Mongol', which was nominated for an Academy Award.
His work has been exhibited in galleries around the world, and by leading institutions such as the Council of Europe. It was also put on show during the Beijing Olympics in 2008.
The artist's paintings can be found in private collections in Russia, the United States, Germany and Australia and he counts Russian President Vladimir Putin and ex-German Chancellor Gerhard Schröder among his collectors.
Next year the Tretyakov Gallery in Moscow will host an exhibition of more than 60 of his paintings, drawings and sculptures, along with a special fashion show created using his sketches.