'They take turns having meltdowns, and it often concerns the fact that one of them got to snuggle with papa and one didn't'. City of Chita in Eastern Siberia, where Alan and Kim daughters came from. Picture: kartoman.ru
This account is likely to make you shed tears, but it also shows how the human spirit can sometimes overcome all barriers and lead to hopefully the right result for adults and children who were surely destined to find each other.
The daunting obstacles on the way left this US couple close to despair - two years ago they 'sat on a plane in Siberia broken hearted.
'We had attached ourselves to an impossible dream and it all fell apart. We couldn't talk as we left because we were too hurt.'
Their heroic determination - and, they would say, trust in God - saw them finally succeed in their craving to give a home and a family to three orphan girls from Chita.
Many may disagree that this should be allowed.
In Russia today, this is a desperately emotive topic.
They may feel that children are better being cared for in their own country, whatever, than uprooted to a new and very different culture where they cannot - initially anyway - speak the same tongue as their new loving parents and need to rely on Google translations.
And yet, what is right and what is wrong in this situation?
Tennessee couple Alan and Kim Clark, he a pastor and she a teacher, were moved to try for adoption from Russia after hearing about the plight of orphans.
A missionary had come to their church in Franklin and showed pictures of these parentless children in state institutions on the other side of the world.
It immediately struck a chord with the couple, who do not have children of her own.
This was two years ago and as her local newspaper, the The Tennessean, recounted: 'It was a moment that shook the couple.
'Alan describes Kim as being called to go get her daughter, not knowing that she would have two sisters and not anticipating the obstacles lying ahead.
'They couldn't know that their journey to be parents would take them to Siberia, where they would have to fight to adopt three sisters.'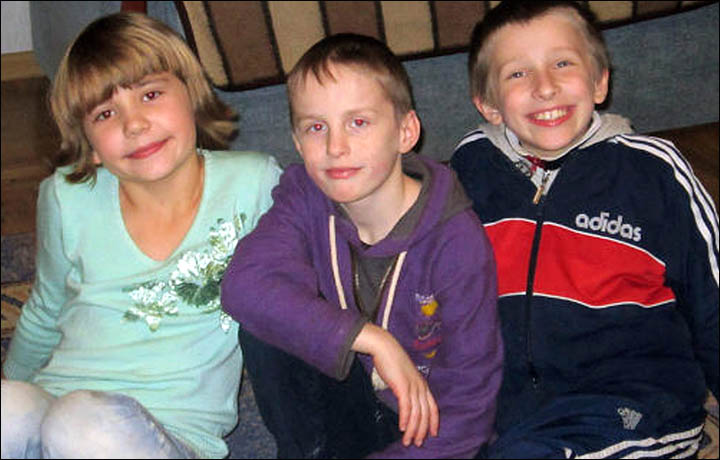 Not every adoption case ended so happily. Artem Hansen, middle, who was sent back alone on a plane by his American mother, is now re-starting his life with new Russian family. Artem is pictured here with sister Sonya, 9, and brother - also called Artem. Picture: The Siberian Times
The three were sisters Kristina, 13, Nastia, 11, and Natasha, 9, from Chita, some 13 time zones from their US home, and all deprived of parental love in a normal family.
There were many reasons why Russian orphanages, judges and officials would be reluctant to allow one child - let alone three - to be adopted to Tennessee.
In 2010, adoptive mother Torry Hansen, a nurse then aged 34, dumped her Russian 'son' - who she called Justin, real name Artem, then seven - on a plane all on his own and sent him packing back to his motherland, all alone.
She, too, was from Tennessee.
She sent a note with the child 'to whom it may concern' saying:'I no longer wish to parent this child'.
Hansen's act of cruelty was not alone.
There were other disturbing cases of horror stories where children from Russia had been taken from orphanages in their homeland only to experience horrors in the US from parents who - to orphanage staff - had appeared caring and competent when they became 'parents' for these needy youngsters.
So strong was the backlash that Russia threatened to block all adoptions to the US pending a new agreement.
'The government said no five times. All the agencies said no,' recalled Alan.
Lesser mortals would have given up.
The Hansen scandal 'was a big deal here; it was a bigger deal in Russia. It shut down all adoptions - they were already prejudiced against us, and we are from Tennessee. They made us go through hoops'.
We do not know the history of the girls in Chita, and how they come to be in the orphanage, but evidently they were available for adoption to Russian parents but no suitable families came forward.
The US couple, meanwhile, navigated the Russian legal system. They attended parenting classes, and began studying Russian.
Today, the Clarks are still adapting to a new life after they were allowed to adopt, but the battle they faced getting to this stage - eloquently and emotionally recounted in a remarkable blog posted to his churchgoers. Below are some extracts.


23 April 2012 - Here We Go Again

Next Monday Kim and I will head to Russia again.
We will spend the first day in Moscow at a clinic, as they check us over from head to toe. As soon as we are finished with the clinic we will fly out to Chita.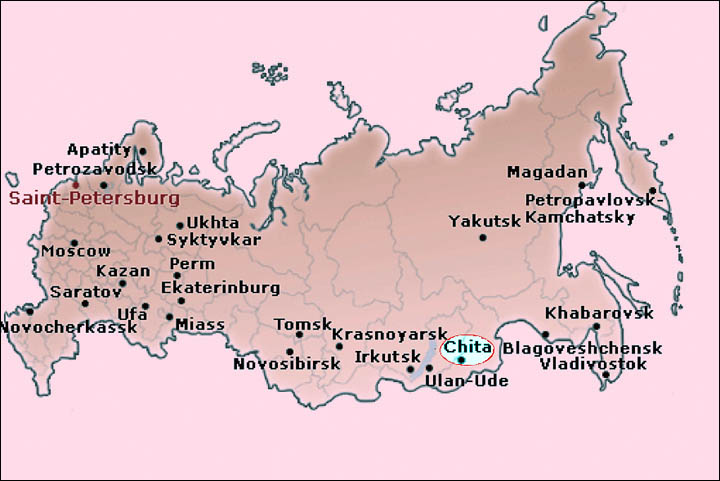 The first thing we want to do in Chita is to go and see the girls at the orphanage - I hear that they are anxious to see us also!
After a good night's rest and some delicious Russian food, we will go to court with our whole family on Friday.
We are extremely excited about this day, and thought that it would never get here.
Anna is going to be our translator. For those of you who remember our story she is the young lady in Chita, who has been so kind to us and she worked for us for a year as we tried to pursue an independent adoption.
We would adopt her too, but she has parents already.
We will stand before the judge and the local social workers as they interview us concerning our ability to adopt and to raise children.
They are concerned about sending older children to America because of recent events in the news - so we expect to be there a long time.
If the court rules in our favour we will stay a few more days in Chita and head home to start the longest 30 days of our lives.
If all goes as planned, we will return to Chita on 4 June and begin the journey home to start our new lives together.


3 May 2012
We are in Siberia. Don't rob my house. My treasures are here and all of our jewellery has been sold for the adoption.
We have nothing left that means more to us than our children. I cashed in coins dating back to 1850 and ate leftovers for a year. I'm not broke. I sat in an orphanage in Siberia all afternoon with 3 little devushkas fighting for my attention.
We looked at pictures and took videos of them singing and dancing. I sat and realised that Kim and I are wealthy.
Our oldest daughters ran into the room and threw their arms around Kim.
She is their hero, and they knew she would come back for them. Kim comes alive in the orphanage. I've seen her on stages for 26 years but she really shines on this one. It is as if she were made for this very mission. Each girl put on their new outfits and paraded around like they were something. Their momma made them feel like they were successful models on a New York runway and not in an orphanage. Daughter #3 hung out with me again. She likes futbol and wrestling. She's all mine for now.
I have so much to say about our trip and medical exams. One doctor looked at my chest and said 'normalna'. I wanted to say 'look again'.
God parted the seas time and time again and rescued us from a disaster last night.
We passed the monument in Moscow where the Germans were stopped in WW2. We went to a restaurant where no one spoke English and I ordered a 15 centimetre sub. We have gone up and down in elevators that were a third the size of my closet. I've watched the sun rise over Siberia while listening to praise music.
But the greatest memory I'll ever have was seeing hope in my oldest daughters eyes. When she came in and saw us it was so obvious that this was a life lesson for her.
She needed today as much as we did. I am sure that on some beach in Malibu there is a man who thinks he has it all. I would not trade my life for his.
His sunset over his Mercedes could never beat the look on the faces of children who have hope and a future.

4 May 2012
What an amazing day for all of us.
After a long Siberian night we headed to the court house. Our girls were there and they were anxious. They started fixing me immediately. My shoes needed tying, and I missed a button on my pants. They tied and buttoned me up like good daughters, but I could sense their anxiety. Kim and I went in to court and Katia stayed outside with the girls.
Our friend Anna, who is single for all you single guys in America, was our translator in court. We sat and listened to reports from social workers, the orphanage director, the ministry of education and others.
The attorney for the state asked if we were ready for this. I mumbled something and Kim spoke about our education, experience, and seminars. Dang. I should have said that. We left the room and our daughters had to go in one at a time and testify. They are old enough to say no. We could not listen, but their testimony was read in full at the end of the trial.
They told of their deep love for us, and they wanted a regular family. Kristina, I can use names now, said that God brought them parents from America.
That's when the tears started for me.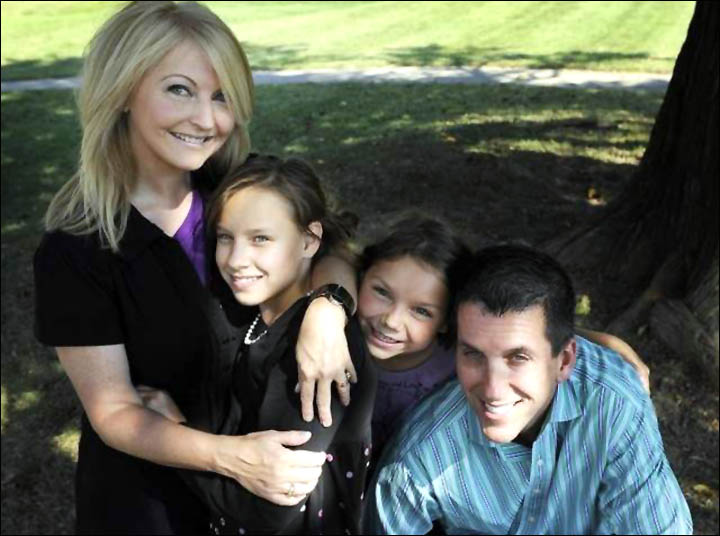 Kim and Alan with two of their daughters. Picture: Tennessean.com
The judge read their family history and their history as wards of the state. He asked me about their education and then he walked out.
Three minutes later he walked in and read a statement to the court pronouncing Kristina, Nastia, and Natasha as the children of Alan Michael and Kimberly Rene Clark.
That's when I lost it. Two years of struggle and over 700 miserable nights came out in tears. By the time the kids came in I was a puddle. I was thinking about Kim's mom and the joy she would have had experienced, and I was picturing our new lives together and then it hit me. 3 weddings!
The next three hours were spent walking around the town square. We went to a store where they picked souvenirs out and Kim started teaching them how to bargain shop. We celebrated with ice cream, pizza, and salad. I will give more details later. I'm thankful for the judge and the kind way that he guided us.
I'm thankful for all of our new Russian friends like Katia and Anna. We thank God for the wonderful ladies who have loved our kids at the orphanage.
I am amazed at our church that carried us for two years. I'm most thankful for that wonderful voice from heaven that pushed us off the sidelines two years ago. We are broken but far from broke.


5 May 2012
The last 24 hours would fill most bucket lists. Last night we sat and watched a 3 hour military parade rehearsal.
This amazing celebration included around a thousand soldiers, military bands, inspection, patriotic songs, and then we heard a loud roar followed by tanks, and missile launchers. It reminded me of my childhood when our National Anthem was a patriotic event and not a solo.
They are preparing for a celebration of Victory Day on May 9. The high level of respect for their soldiers and those who defeated the Nazis in WWII is humbling. They still remember the 28 million Russians killed during The Great War and our girls are performing a song with their school choir.
We will do our best to respect their rich heritage and to maintain pride in their homeland while helping them appreciate our land and the values that our country was founded upon. We started our day hanging out with our friend Anna, and then went to the orphanage for a few hours.
Since the older girls were still rehearsing, Kim and I had a special time with my little solnyshko... Natasha.
Kim helped her make me a bracelet which I now wear with pride. She is picking up English very fast. She needed this time because she is the one who often gets left out. She is our little artist and she drew pictures for us. When I said, 'Papa is very proud of you', her face lit up.
Kristina and Nastia finally came in and we just acted like a family. We played soccer with a balloon, and Kim and Nastia sang. Natasha read me a story in her sweet raspy voice and the older two sang 'When Will My Life Begin' from Tangled.
It was over before we knew it and we headed back to our hotel, and they went to do homework. Another day was over before we got to look up.

6 May 2012
We were treated to Russian hospitality today. Katia, Eugene and their children hosted us today. We drove to a really unique restaurant where we had our own cabin and we ate like kings. The hardest part of a Russian meal is the silence.
We use food for fellowship. The rest of the world uses it for nourishment. Upon realising that I was the only one chatting I got the hint! Our kids watched Katia's girls to see how to hold a knife and how to sit. Thank you Eugene, Katia, and family!
After lunch we visited a church covered in locks.
After each wedding the couple puts a lock in the gate and throws the key over the mountain. Our girls read every lock and laughed about the etchings. 'Anton and Natasha forever' was a common theme. I can't wait to use this in their lives as they mature.
As we drove back to the orphanage Kristina yelled 'Papa look'. She saw a cross on the hillside and had to show me. Somehow she knows how important Christ is to me.
I have prayed for these girls for two years. I pray that they will someday look in a mirror and see themselves as a work of art, and not a neglected child. Most of all I pray that God's love will inspire them to do great things for other people and to see others as a work of art.
The couple went back home to the US as formalities were completed before returning to Russia a month later to collect their girls and begin their new life in the the US.

9 May 2012
The flight from Moscow was not crowded and I had a whole row to myself. I watched two movies, listened to Earth, Wind and Fire and slept on and off for 10 hours.
The Washington airport was a nightmare trying to get through security and get to our connection while going through passport control, retrieving and rechecking our luggage, and re-entering through security with thousands of other people. We ran to get on the tram to go from gate D to gate A and arrived just in time to hear that our flight had been delayed.
Here I am again at 2 am sitting downstairs. I've almost worn the carpet out in front of this couch for two years. For one year I was so frustrated because I felt like we were all alone. The dream of adopting three young ladies from Siberia was overwhelming and our desire kept getting stronger as the process fell apart.
I knelt right here for months late at night and asked God to take this desire away. It was bigger than us. It was too much for us. It was more than we could handle. We were beginning to imagine our lives with Stina, Nastia, and Natasha and we were dreaming all the time about taking them to church, high school football games, the Wannabeatles, parades, picnics, and more.
I told God that Kim and I did not have it in us to fight this fight and lose. I saw us being broken financially and mentally if all that we were fighting for continued to be rejected.
As I look back over these last two years I see a bigger picture. No matter what happened through our adoption I have grown to understand more about God's heart for other people and His nature.


9 June 2012
A three hour delay on a plane in DC put us in Moscow just in time for rush hour traffic. God's peace has been evident, and by the time we got to the orphanage we were excited again. We celebrated Natasha's birthday! She was queen for a moment and kept saying, 'I love you papa'.
Kristina cried all day. Her best friend left for camp this morning and she said goodbye forever. We mourned her loss with her and realised that her sacrifice is greater than ours. She is giving up her security and identity. We are giving up peace and quiet. She is blindly following her heart where we are boldly forging a plan. She is very brave. We are very tired.
Many children who grow up in tough places have lost the ability to trust and love. They give up on things like hope and faith because the people who were supposed to love and protect them failed. Kristina has the ability to attach and that makes me happy. She has a great ability to love others, and that will make our bonding time easier.
The goal of the next three months is to try and build faith and trust into 3 girls who have every reason to be cynical. We will keep their world small for a while. They will get their love and affection at home and high fives at church. Kim and I will seem like their source for food and their basic needs although the church and my mom are in the background cooking away. We will not nudge them out of the nest until they know that family is forever.
This posting covers their departure from Chita in Siberia en route to Moscow, where they stopped before flying to the US.
13 June 2012
Sorry I haven't written. I have absolutely zero time to think these days, and I use that time for strategiorization with Kim.
Leaving the orphanage was so hard. The caregivers wept with joy and sadness as they said goodbye on a rainy and cold day in Siberia. The kids cried quietly all the way to the airport and Natasha said that she had the same caregiver since she was three.
She was leaving the only mommy figure she could remember.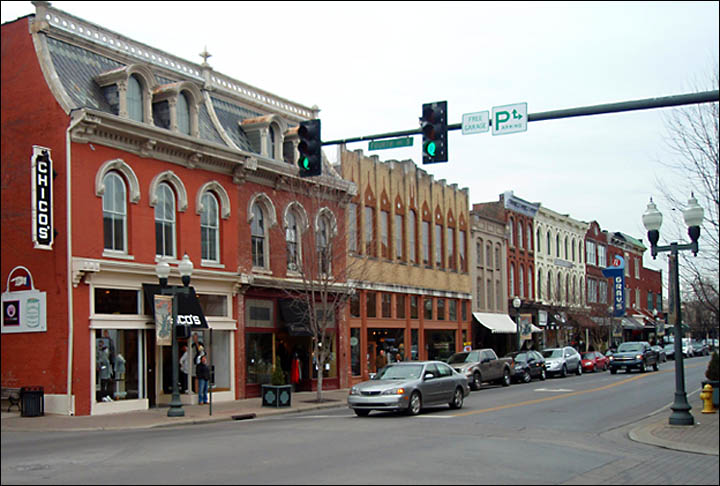 New home: historic downtown of Franklin, Tennesee
Katia fought the crowd and got our tickets while the girls said goodbye to Lucya. We were very sad. We don't know if we will ever see Katia and her beautiful family again. We were leaving Anna and Lucya and other friends who have given so much to us and to our girls.
As we stepped out of passport control and through the metal detectors Kristina with puffy eyes put her hand out and said, 'Semya (family) on three'.
We piled our hands up, counted to three and said 'Semya!' And so the journey began.
The last two days have been difficult but rewarding. Kim has spent hours sitting on a bed with a hysterical child using Google translate to coax her. They take turns having meltdowns, and it often concerns the fact that one of them got to snuggle with papa and one didn't.
The language barrier causes meltdowns. I can agree to take them to the store, and not know it but when I figure out what I did and say 'not now it is raining', they retreat to their bedroom full of tears. If we spoke the same language I could be more consistent. For now I will try to do what is best for them knowing that a counsellor will make payroll off of my mistakes. Besides, Kim is used to fixing my messes.
Somehow she ends up two hours later with a hug and a kiss and they are gaining security from mommy's persistence. They now realise that she never gives up on them.
The girls love to surprise us. Everyday they do something to surprise us. Yesterday they cleaned their room spotless and sat us on their bed. They closed the door and we heard a lot of commotion and whispering. We laughed at the irony of them whispering. They finally got us to close our eyes and walked us out to yell 'surprise'. The whole apartment was clean.
When I say clean I mean spotless. Everything from the floors to the handles on the cabinets had been scrubbed and shined. They had also hidden our phones in each room on video in order to record our responses. They love watching the video and seeing our response as we went from room to room in awe and said thank you.
Before I go prepare for our visit with the American embassy I want to share one more thing.
We now pray at every meal. If we jump into lunch and start eating, someone will stop us to go back and pray. They go get the picture of the church in their town and put it in the middle and point to me. I pray the same prayer every time. 'Thank you Lord for this food, my beautiful daughters and wonderful wife'. The only time we didn't pray was at McDonalds but it is hard to say thanks for a Beeg Mak. If I don't write again this week I will see you at the airport.
We arrive at 9:15 in the morning. Please give them high fives and say, 'Welcome home.' Someone bring Kleenex.



Alan's remarkable postings stopped then, seemingly because he was too busy being a Dad.
The two younger girls are now at Hunters Bend Elementary School, where one teacher is fluent in Russian.
'They are really smart girls, really sweet,' says this teacher. Kim - who has quit her teaching job - is home schooling the oldest, Kristina.
The girls are keeping in touch with their orphanage friends by Skype and 'have walked around their new Franklin home with a laptop showing their friends where they live, but the real gasps came when they showed the kids the refrigerator full of food'.
'God gives you a lot more than you can handle,' said Alan. 'We've had 26 years of total freedom, and now when I pick them up from school at 3:30 pm, there's not enough time to do everything they need done, let alone the things I need to get done.'