---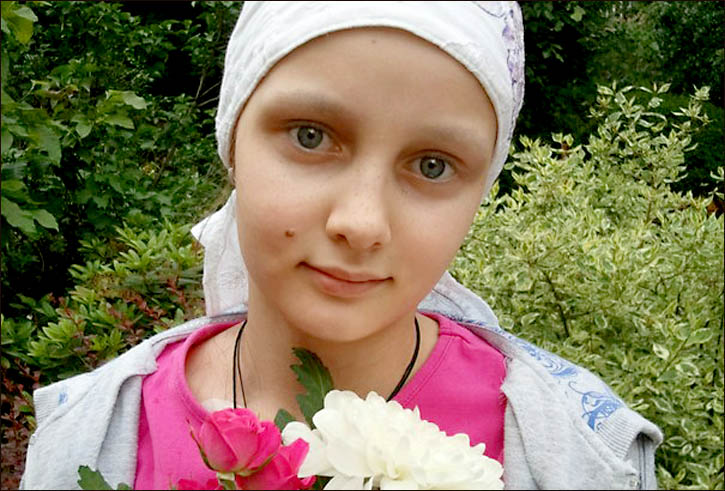 Kseniya Voronina, 11,
before she was diagnosed and, below, after first chemotherapy sessions
'Kseniya complained about stomach ache around six months ago,' says her mother, Elena, from the Altai region in Western Siberia.
'We took her to the doctor, who said there might be the need for surgery. Then, like lightening, the news struck that surgeons had detected a tumour in her tummy, and that it might be cancer.
'The diagnosis was confirmed. It is a stomach soft tissue sarcoma - the type of cancer which is sadly not yet curable in Russia.
'Like many other parents around the world in this situation, we rushed to find out about the possibility of treatment elsewhere.
'Kseniya, meanwhile, has been undergoing chemotherapy, the ten sessions she were prescribed.
'She has done amazingly well, and the tumour's growth has stopped.
'We were lucky, too, to hear back from an expert in soft tissue sarcomas, Dr Matushansky, an Assistant Professor of Medicine at the New York Presbyterian Hospital, Columbia University Medical Center in Manhattan.
'He said there is a good chance for Kseniya to recover. To take this chance we need to find more than $600,000.
'A third of the sum is already collected, thanks to the tremendous help from relatives, friends, and teachers and students from Kseniya's school.
'If we manage to gather three million roubles more now - that's around $95,000 - Kseniya will be allowed into the New York City clinic, and the treatment will start, which is vital for her.
'If you can, please help us.'
The Siberian Times will be posting updates on Kseniya Voronina and the progress in her treatment.
For help, please refer to the details below:
Webmoney (in dollars) Z366796027078
Webmoney (in roubles) R230883247387
Сберкарта 4276 8020 1594 8209
Получатель: Елена Анатольевна Воронина, мама Ксении
Сберкнижка
Банк получателя: отделение №8644 Сбербанка России, Барнаул
БИК 040173604
ИНН 7707083893
Расчетный счет 423 078 102 0214 261 4119
Корреспондентский счет 301 018 102 0000 0000 604
Получатель: Елена Анатольевна Воронина
Яндекс деньги: 41001866089597
QIWI кошелек: 905 981 4817