A 'Dakosaurus-maximus' or a freak of nature? Picture: Yevgeny Shvitov
The video confirms earlier photographs from fishermen showing a crocodile-shaped stone in the Ruta-U River.
Is it a 'Dakosaurus-maximus' dating from the Jurassic and Cretaceous periods, as Siberian naturalist Pavel Sitnikov argues, or a freak of nature, a rock appearing to have sharp teeth.
'You can feel the edge,' says a scientist as he touched the 'teeth' in the fast-flowing river.
Professor Sergey Gashev, head of Zoology and Ichthyology at Tyumen State University, believes it to be one of the first reptiles.
'We plan to go on an expedition to the river next year with scientists from the Yamal Peninsula to prove to the world that it is not a river stone but the remains of an ancient animal', he said.
Eugenia Khozyainova, a senior researcher from the Shemanovsky Museum in Salekhard, is more sceptical, echoing doubts from experts around the world which were expressed when the first pictures emerged.
After seeing the object, she said: 'It's like a big boulder, more than a metre long, around 80 centimetres wide. Indeed, on the one hand, if you look at it, it does appear to be a dinosaur head. But there are no eye sockets nor any sign of a skull. For example, there are no temporal arcs.
'To a large extent I am inclined to think that this is an ordinary stone, but it is just so bizarre looking.'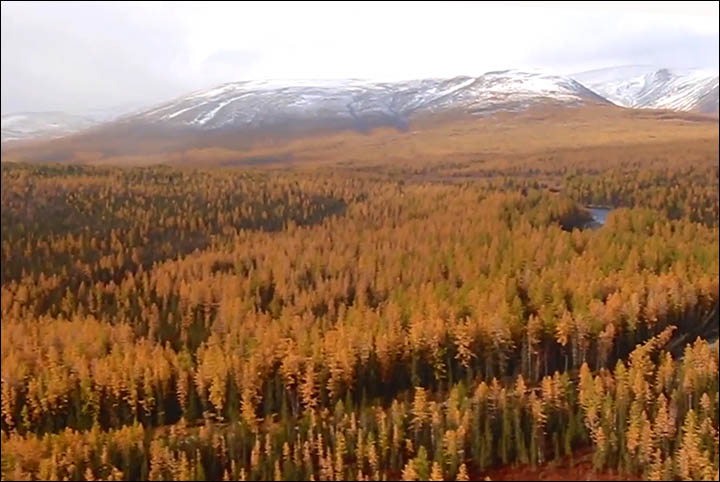 ---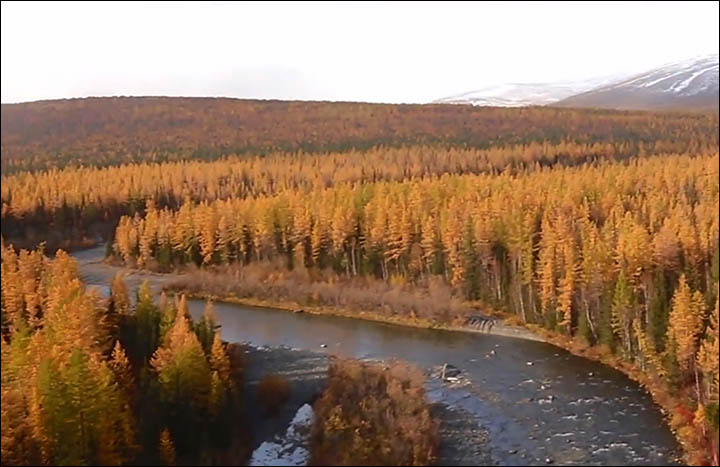 ---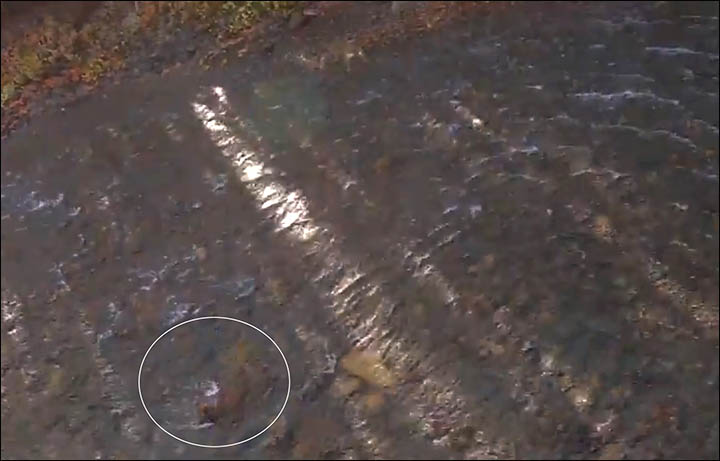 ---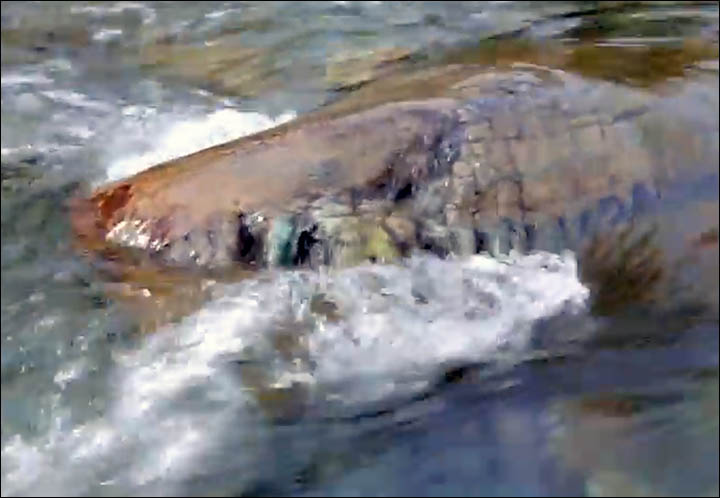 ---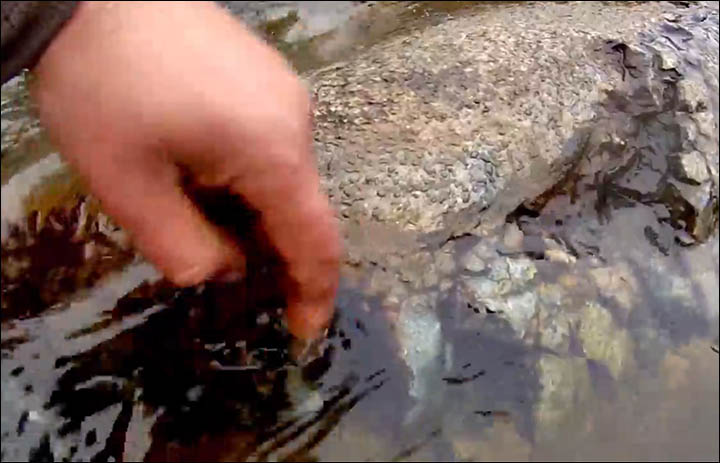 There were claims the remains could be a fossilised Mesosaur, making it almost 300 mln years old. Pictures: Yevgeny Shvitov
However she is not sure: though she rules out a dinosaur. 'I can say for certain that it is not a dinosaur skull. We took pictures, made measurements and will show photographs to specialists and they will be more exact in naming the discovery.'
Yevgeny Shvitov, head of 'The Wild North' fishing club whose members originally spotted the underwater 'monster', says experts have assured him it is 'the jaws of an ancient reptile'. 'The Yamal authorities asked us not to pull the head of the reptile our of the water, saying that next summer there will be a full-scale scientific expedition to the site'.
The weather will soon change covering the river in ice, so experts must wait until 2015 to examine it more closely, and take it to a laboratory where it can be properly examined. On next year's trip will be be Professor Gashev, who is hopeful that this is the real thing.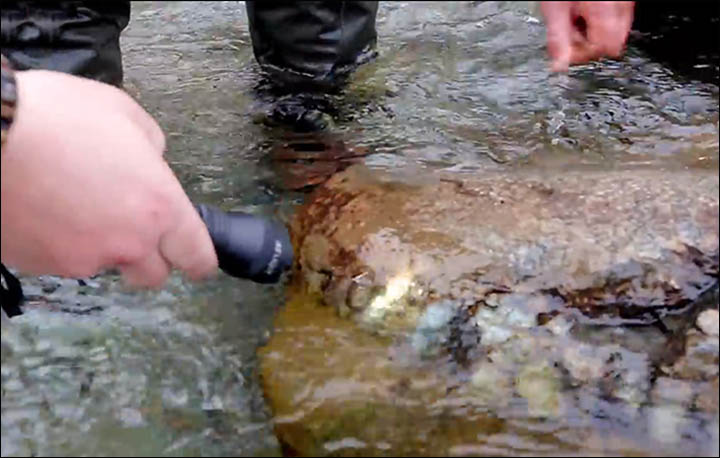 ---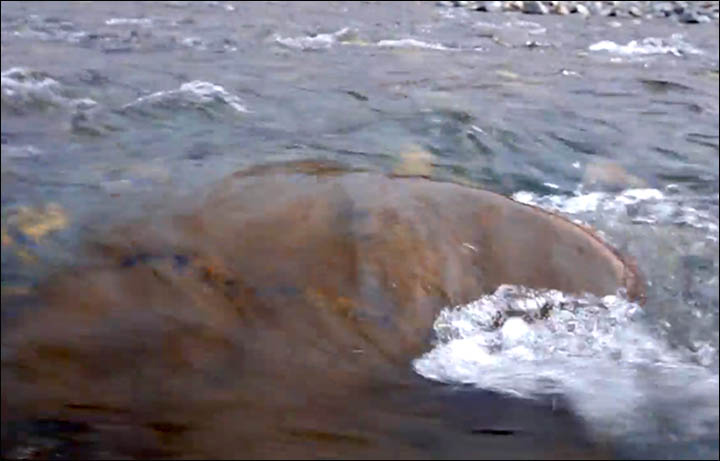 A reptile, or not a reptile? Side and rear views of the find. Pictures: Yevgeny Shvitov
A spokesman for the Yamal Autonomous District, said the 2015 expedition 'should give enough time for palaeontologists to study the video and pictures' from this week's visit. 'They will examine the remains one more time on the spot, then very carefully they will extract it out of the river for laboratory studies'.
Earlier there were claims the remains could be a fossilised Mesosaur which could make it almost 300 million years old. For now, we must wait one more year for the answer.