The Vector State Virology and Biotechnology Research Centre, also known as the Vector Institute, is a major research and production centre focusing on molecular biology, virology, genetic engineering, biotechnology, and epidemiology. Picture: Vector State Research Centre
Two teams of experts from the Vector State Research Center of Virology and Biotechnology, based in the Koltsovo town near Novosibirsk, have spent the last two months working with Ebola victims in a mobile laboratory in Guinea.
Now there is hope of a major breakthrough in halting the rapid global spread of the virus.
It comes as the World Health Organization (WHO) says at least 4,447 people have died from the outbreak, mainly in western Africa. Sierra Leone, Liberia and Guinea have been hardest hit by the virus, which began in December last year but was only confirmed in March.
Alexander Agafonov, deputy general director at Vector, said scientists had developed 'a number of genetic structures' for potential use. But he stressed any vaccine would not be used until the research team had proved its safety and effectiveness by carrying out tests on animals first.
He said: 'We will verify a number of vaccine variants and use the one which proves most effective.
'It is necessary to deliver a piece of a safe genome or a viral protein to the organism to start a cascade of immune reactions, which will protect the person. We have developed these structures. It is premature to say whether it is safe and effective for people.'
Founded in 1974, the Vector Center is arguably the world's most eminent facility for studying Ebola. It is one of just two institutions in Russia where special conditions are provided for examining the virus, which is considered most dangerous in the world.
Researchers have been analysing Ebola since the 1980s and have already been able to identify which genome will make the virus dangerous and contagious.
Mathematical models developed at Vector also show that the number of contacts between the sick and healthy people should be at least halved to stabilize infection levels. Now all attention is being focused on testing the potential vaccine.
The Ebola virus is transmitted through direct contact with the bodily fluids of the infected.
There is no officially approved medication, but several countries are currently working on developing vaccines, with Russia planning to introduce three within the next six months.
In late August, a team of eight Russian experts, including those from the Vector Institute and the Microbe anti-plague institute, arrived in the Guinean capital Conakry following an official request to the Kremlin.
A second team of virologists was then sent to the African country to double efforts for a breakthrough.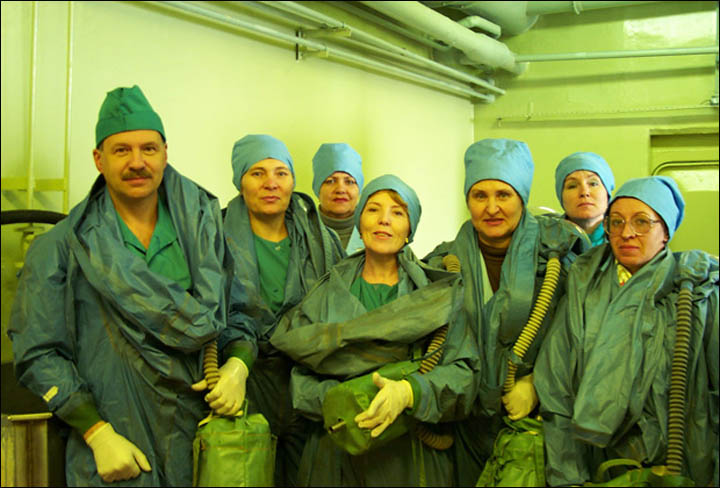 ---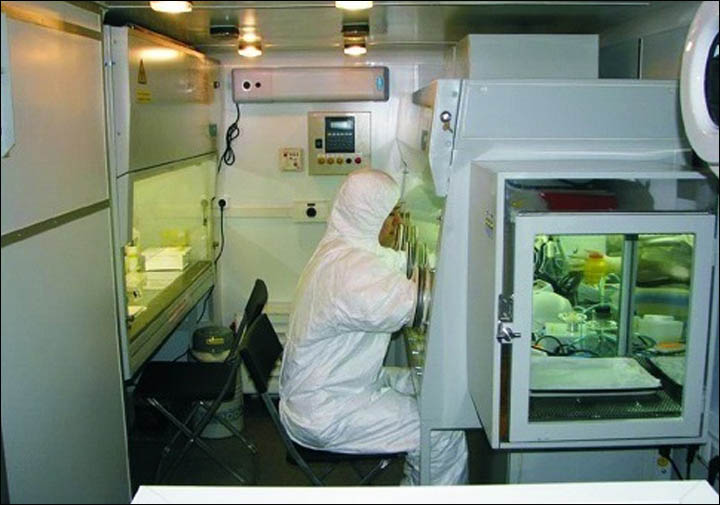 Alexander Chepurnov, head of the laboratory of dangerous viral infections in 'Vector' with his team (top). Research process in laboratory (bottom). Pictures: Alexander Chepurnov, Rospotrebnadzor
Valery Mikheyev, who heads the biological research center, said the scientists gained 'good experience' from the visit but were shocked by the poor conditions, with corpses piling up.
He said: 'They have worked there for more than a month. They saw such living conditions for the first time. You can walk down a street and see a dead body that no one is taking care of.
'Or you can walk up to a hut and have a look at the conditions people live in and you will be shocked. Burying the infected is also a problem. The locals do not allow medical workers to disinfect the hotbed of the disease.'
The same facility says it could also be on the brink of delivering a long overdue cure for HIV and AIDs with a new vaccine ready for its first tests on humans.
Following four years of testing, the research team is preparing for the second phase of its clinical trials of KombiVITCHvak if it can secure the necessary funding.
Around 200-300million rubles ($5-7.5million) is required to allow trials to go ahead, with the tests schedule to be completed within two years.
Mr Mikheyev said: 'It is Russia's only vaccine against AIDs and has reached its second phase of clinical trials. Unfortunately, funding has yet to be found. But soon will be a committee meeting on HIV-AIDS, and we are trying to get additional funding to conduct clinical trials.'
The most recent statistics from WHO estimate 35 million people across the world are living with HIV, while 1.5 million died of AIDS-related causes last year.
Russia has one of the highest HIV infection rates in the industrialized world, driven in part by high rates of drug use. New Russian infections account for some 55 percent of all new cases in Europe.
According to the Russian Health Ministry, three research centers across the country are trying to develop a cure with officials hopeful at least one will provide a vaccine.
Meanwhile, directors at Vector said they had no plans to remove or destroy Russia's only stock of the deadly smallpox virus from the facility.
The World Health Organization declared smallpox eradicated in 1980 but two stocks of the virus still remain, one at Vector and another in the American city of Atlanta. A decision on whether they should continue to be kept is currently being discussed by WHO.
But Mr Mikheyev said: 'The collection remains as it was. No one is planning to destroy it. The issue is being discussed, but I think that it will take long enough until the liquidation of the repositories.
'The threats persist and in order to have some working material to counter these threats, these sample strains should be kept.'