Maria Sharapova. Picture: Maria Sharapova's Facebook
The Siberian Times has tracked down people who knew her as a baby in Nyagan and recall her father Yury's extraordinary sporting ambition for his daughter even when she was still in a pram.
'I am really happy and proud of where I come from,' she said.
'It's fun to hear when they announce me and they don't just say born in Russia, they actually say I was born in Nyagan, Siberia.
'Every time I hear that, you can hear the crowd go 'whoa.' Like, I don't think people actually realise that's where I was born. When they say it, I feel so proud.
'It's like when they say I've won a Grand Slam or been Number One, when they say where I am from, I get goosebumps because I am so proud of coming from there and getting to the position I am in today.'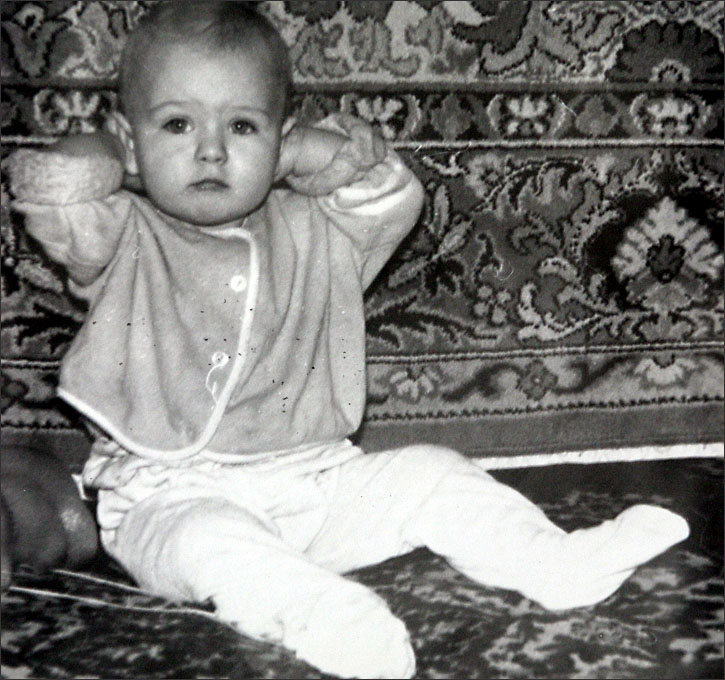 Maria Sharapova at her parents flat in Nyagan, Siberia. Picture: The Siberian Times
The basic outline of Maria's story is by now well-known. By the age of seven, her father took her first from Nyagan to Sochi and then from the Black Sea to the US making untold sacrifices in the family's life (her mother remained initially in Russia) to realise the dream of tennis stardom.
With modelling endorsements and her labelling as 'hot' and a 'sex symbol' by the Western media, she has risen to become the world's highest earning sportswoman.
In Nyagan, which had no tennis courts, she was anyway too young to start the sport. Yet an intriguing question emerges, as we show below, over whether it was here, while she was still in nappies and indeed before she could walk, that a plan was made for her to become a tennis star.
Her English accent and intonation may today suggest she is American not Russian, but her roots are most definitely Siberian.
One of the most interesting aspects of her recent revelations about Nyagan is that she admits to sometimes reflecting what might have been had her ambitious father Yury not propelled her in tennis.
'I have no idea who I would be now, what I would be doing,' said Maria, who plans to marry Slovenian professional basketball player Sasha Vujacic later this year. 'Probably, I'd have had a much more normal lifestyle, graduated from school and be working somewhere.'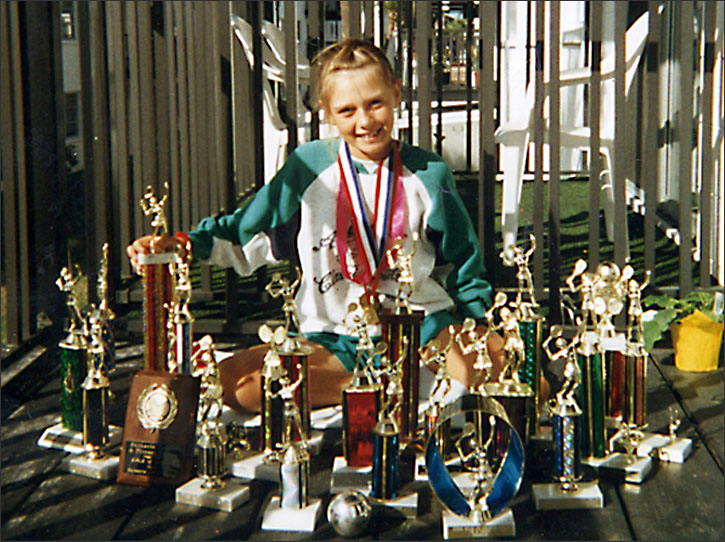 Maria Sharapova, pictured after her move to America, with her first awards on display. Picture: The Siberian Times
Back in her proud Siberian birthplace there are people who still recall her, and they have a fascinating story.
Larisa Chushkina, 64, was a close friend of the star's grandparents Tamara and Pyotr with whom her newly-wed parents Elena and Yury lived when Maria - known to her Russian friends as Masha - was born at Maternity Hospital Number One on 19 April 1987. She weighed in at 2.4 kilos and was 47 cm tall.
'We lived in the same block but met picking mushrooms and soon became very good friends,' she recalled.
'Tamara and Pyotr had moved to Nyagan from Gomel in 1984, and Elena came a little later after finishing her school in Belarus.
'Elena was a good dancer and also taught dancing at School number three, free of change after-class lessons. I liked Elena very much.
'I remember her when she was so young, just 18, very slim and beautiful, shy and modest. She was charming.
'Once her parents were away somewhere and she came to celebrate New Year's Eve with us. She was like my second daughter, I remember she was sitting at the table with us and looked like a part of our family. '
'My own daughter Masha liked her very much too. Though Elena was nine year older, Masha played with her and I saw them dancing together. Maybe Elena called her baby daughter after my Masha?'
Whether or not this is true, Larisa has a good and revealing memory of Maria's earliest days. 'A year before the Chernobyl disaster, Elena went to Gomel to stay with her grandparents - Tamara's parents - and it was there where she met her future husband Yury.
'Soon afterwards, I think it was autumn 1985 - Yury came to Nyagan to meet his future relatives - and by then they already wanted to marry.
'When the Chernobyl explosion came, in 1986, as I recall they were both again in Gomel, which was badly hit by the radiation.
'I remember they told me that exactly on that day they were walking outside with their friends and those poisoned clouds were just over their heads but of course no-one had explained the danger.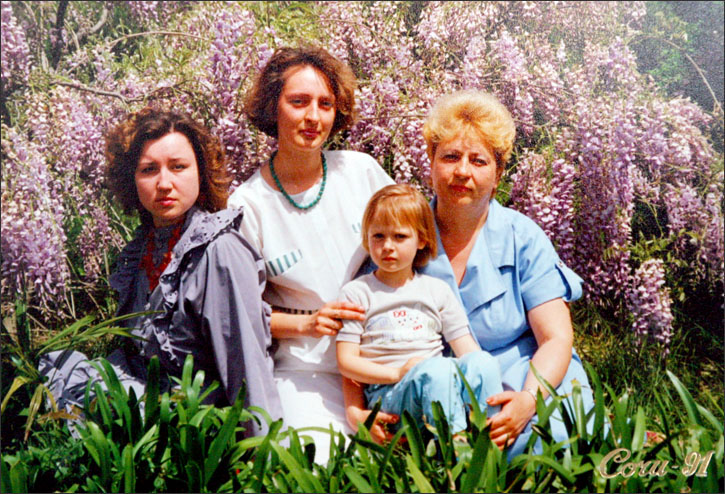 Maria Sharapova, year 1991, with mother Elena, second left, grandmother, first from the right, and a female relative in Sochi, Russia.
Picture: The Siberian Times
'Their wedding took place in Gomel, and I remember Tamara and Pyotr went there and then came back, I think it was summer of 1986.
'I remember Tamara came to me to let me see her dress for the wedding so I could approve of it.
'It was already agreed that young family would live in Nyagan, with Elena's parents.
'Tamara had two rooms in her flat and the smaller one was given to Elena and Yury. It was also the warmest room in the flat.'
Very soon after Maria was born, according to Tamara, Yury was openly speaking about turning her into a tennis star.
'I knew by then that Yury was a fan of tennis. There were - and still are - no tennis courts in Nyagan, so Yury stayed fit instead with cross-country skiing.
'I often saw him with his skis walking to the forest. From what Tamara told me, I know that he said: 'My Masha will be a tennis star one day.
'I'll do my best to bring her up and teach her tennis. And she'll never go to a Soviet school. She will study and live in a different country'.
I don't think any of us took it seriously then, but how right he was.
'Yury looked very strict and serious, he was not talkative, always deep in his thoughts. He stayed in Nyagan less than a year, and as soon as Masha was born in 1987, he began plotting their move to Sochi - he was already planning Masha's bright future.'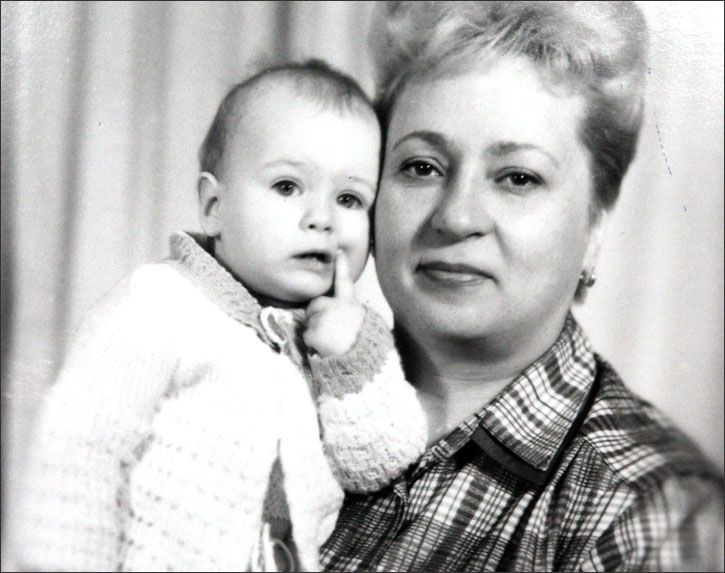 Maria Sharapova, aged one, with her grandmother in Siberia. Picture: The Siberian Times
At the time Sochi with its mild climate beside the Black Sea was the best place in the Soviet Union for the sport.
'He often travelled between Nyagan and Sochi in 1987 and finally arranged a flat for them there,' said Larisa.
'So Yury and Elena stayed in Nyagan for about two years, maybe less than that, and moved away. '
Before they left to Sochi, babushka Tamara would often care for the baby.
'I saw Masha sleeping in her push-chair. She was so tiny, so sweet,' recalled Larisa.
'Could I ever imagine that one day I'll be giving interviews about this little girl? Certainly not.'
Maria's connection to Siberia continued shortly before she left for America when she came to stay with her grandparents, then still living in Nyagan.
'She was seven, blue-eyed, blond and slim, very attractive. I noticed that she was a bit like her mother and and also took after her father, lucky parents, though looking at her today, I don't know where she gets her height from - she is much taller than her parents.
'Mind you, Tamara worried for Masha very much. I remember her saying: 'Each time I call Sochi, Lena says: 'Masha is on the court with her dad, training'.'
The routine seemed relentless. As indeed it was. Despite being close, Larisa lost touch with Maria's grandparents and it was only when she began making a name for herself at Wimbedon many years later 'that i realised that this Maria Sharapova was our Masha, my neighbours' granddaughter.
'I know how he and Elena made such sacrifices for Masha to make progress. I can see that her success is their success as it is hers.'
It is certainly something Maria seems happy with today. After her fourth Grand Slam victory in Paris, following on from Wimbledon in 2004, the U.S. in 2006 and Australia in 2008, in her victory speech she had a message for her parents in Russian: "I love you very much".
Another family friend, Anna Gochyan, 47, confirms the story about Yury's extraordinarily early decision on grooming Maria for tennis.
'She was 11, and she was living according to a very strict schedule. She got up early, she had training twice a day, and she went to bed also very early, at 9 pm,' she said.
'Masha and Yury were like one body, they were so close to each other. She was an unusual child. She was perfectly brought up, behaving very well, always polite and quiet, never demanding anything or crying.
'I think it's again thanks to that perfect life schedule composed by her dad. Healthy food, healthy sleeping, physical training - all this led to perfect health condition and good height, I think. Well, today our kids eat what they want and do what they want. But they will never win Wimbledon and other such titles.'
Nyagan, where Maria Sharapova was born, was originally a small wood cutting settlement, only established in 1965. It later became an important energy hub, with the establishment of the Red Lenin Oil and Gas in Soviet times. Today the oil resources are part of the TNK empire.