Four kilometre long bridge over Amur Bay. Picture: Made In Russia
Separately, a thousand cyclists were first across the four-kilometre Amur Bay Bridge.
These two magnificent crossings follow the recent opening of the world's largest cable-stayed bridge connecting Vladivostok to Russky Island, venue for the APEC summit next month.
If all three are meant to symbolise Vladivostok emergence as a newly vital Asian and Pacific city, for locals it is the Golden Horn bridge that they most appreciate, easing chronic traffic problems to and from the city's Pervomaisky district.
'The bridge is not just a grandiose engineering construction,' said Primorsky Territory's Governor Vladimir Miklushevsky at an opening ceremony attended by thousands of locals. 'There is no such a beautiful bridge anywhere else in the world.
'I want to thank the builders who constructed this wonder in a record period under the difficult conditions.'
He stressed: 'It is an historic day in the lives of Maritime residents. It was awaited by many generations of Vladivostok residents.'
Hyperbole? Not really.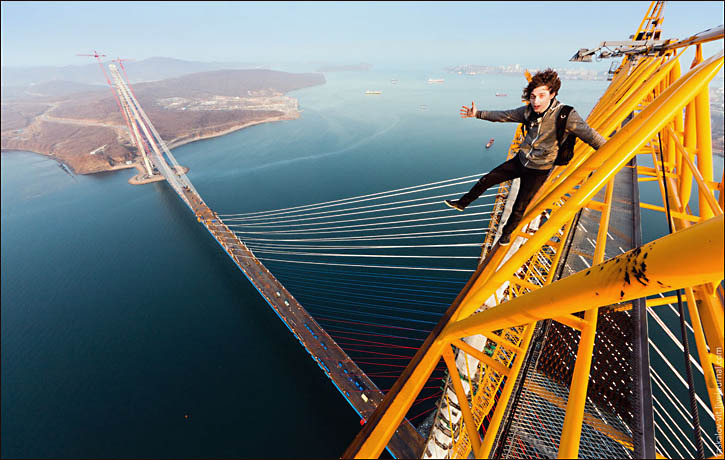 Russian daredevil photographer Vitaliy Raskalov stands atop the Golden Horn bridge. Picture: raskalov-vit.livejournal.com
The summit has acted as a focus for the extraordinary spate of bridge building but these structures - of which many see the Golden Horn as the most striking - as evidence of Kremlin commitment the future of a city that, in the past, was often seen as neglected.
As Europe's economy stutters, it is suddenly very attractive to Russia preen its status as a confident and emerging Asian power.
'We want to show that Vladivostok and the Russian far east is open for business,' said one local official. 'These bridges signal to the the world we're getting connected.'
The contrast with the Soviet era - when the Pacific port was a 'closed city' where foreigners were not allowed - is dramatic.
'The Golden Horn bridge is the one we have been waiting for most,' said Vladivostok mayor Igor Puchkarev. 'In fact, we have been waiting over 100 years.'
It has a main span of 737 metres and a total length of 2,389 metres.
'Until now it would take up to three hours to reach the city centre because of the traffic. Now this has journey been eliminated - now it will take only 10 minutes to walk to, and driving it will take even less. It is a very meaningful bridge for us,' Puchkarev told the current issue of New Civil Engineer, the international trade journal.
In an article entitled 'Bridges: Russian Masterpiece', the publication lavishes praise on the new Vladivostok crossings part of a gargantuan infrastructure investment by the Russian government.
The journal makes some startling comparisons.
'Big bridges have been used by governments as a show of economic might for centuries, from London's Tower Bridge, to Sydney's Harbour Bridge and San Francisco's Golden Gate Bridge,' said New Civil Engineer.
'That tradition is showing little sign of abating, with two of the world's most dominant superpowers battling it out to have the world's longest of the most modern type of big crossing - the cable stayed bridge. And it is the Russians who have edged ahead following the inauguration in Vladivostok last month of the 1,872m long Russky Island bridge.
'With a central span of 1,104m it is only slightly longer than that of China's Sutong Bridge which has a central span of 1,088m, but it is enough to take the record.
'And it is the record, and the statement of power that goes with it, that Russia wants to make in the old Soviet port of Vladivostok as it gears up to host a major economic summit next month.'
Premier Dmitry Medvedev called the Russky Island bridge a 'beautiful, unique structure' yet for the journal the Golden Horn Bay crossing - now the world's ninth largest cable-stayed bridge - is 'more impressive'.
'The locals are proud of their city, which they see as the San Francisco of the east - and it's easy to see why - it's hilly, it's coastal, it spends eight months of the year shrouded in fog, and for Russia its rather laid-back. All that's been missing, apart from the thriving vineyards, is the signature bridge. And to the locals, the Golden Horn - not Russky - is the bridge claiming that crown......
'This view is partly borne out by its beauty but also out of practicality as it unites one of the city's most densely populated yet under-developed suburbs with the centre and, it is hoped, will act as a catalyst for regeneration of the area.'
The weekend saw it opening initially for pedestrians, with traffic to start properly on Monday. The 4,362-metre-long low bridge across the Amur Bay is a part of a new 40 km highway linking the settlements of Novy, De-Friz, Sedanka and Patrokl.
Suddenly a whole number of local and regional journeys will be eased, among them the drive to Khabarovsk.
The notoriously long trip to Vladivostok's airport will also be shortened to 20 or 30 minutes, three times quicker than previously.
The bridges were Russian built and designed but the key component - the cables - were designed and installed by internationally acclaimed French specialist Freyssinet.
Mayor Puchkarev said: 'We are very excited about the appearance of new bridges in our city and it is due to Freyssinet that we have them.'
'Freyssinet's world-renowned expertise in long-span cable stayed bridges was unquestionably vital for Russky Island,' said New Civil Engineer.
'While only a modest increase in length on Sutong bridge, it is being built in a much more testing environment.
'Siberian winters are, after all, world-renowned as being particularly harsh and the bridge will have to withstand a marine environment with temperatures as low as -40C and design wind speeds of 36m/s.'