Where is the cat? A new bridge, nicknamed 'Cat's Ears' by some of locals, is a stunning addition to the Vladivostok skyline
The Russky Island Bridge has been portrayed as another attempt by Pacific port Vladivostok to be seen as Russia's San Francisco, and the estimated $1.1 billion engineering creation is destined to become the city's signature.
To critics is is an expensive folly, a 'bridge to nowhere', serving an island where only 5,000 people live, but to supporters it symbolises nothing less than the coming economic rebirth of the Russian Far East.
Its first major task as Vladivostok's 'calling card' will be to carry VIPs to the Asia-Pacific Economic Cooperation summit being held between 1-8 September.
As late as Tuesday, news reports said its opening for car traffic would be postponed indefinitely citing document examination by safety watchdogs.
However, the following day the 3.1 km bridge - which includes the world's longest cable-stayed span of 1.104 km between two pylon supports - officially began work.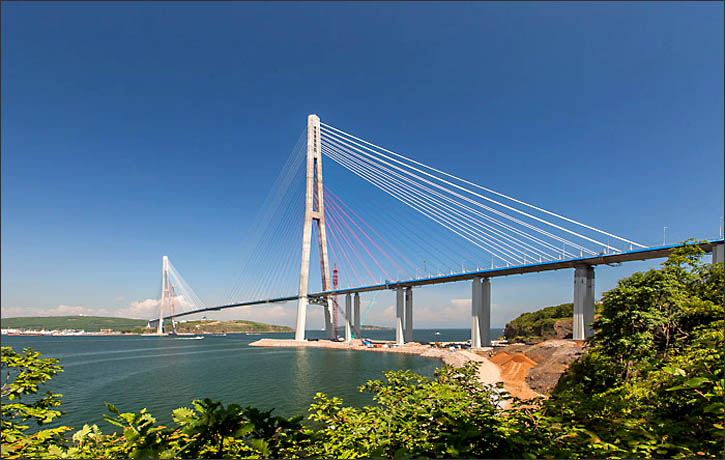 ---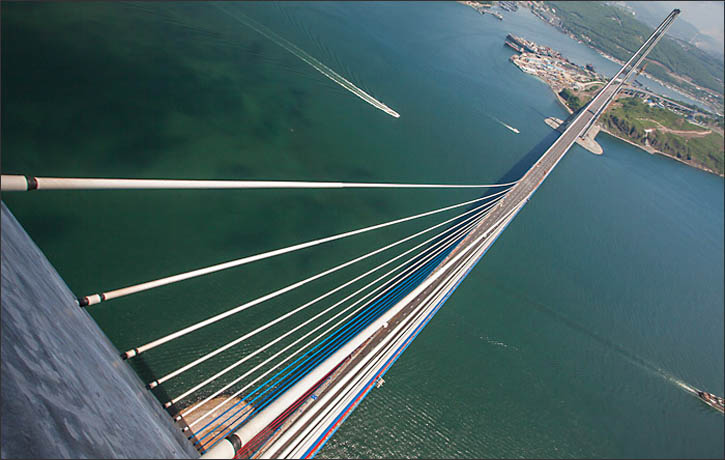 ---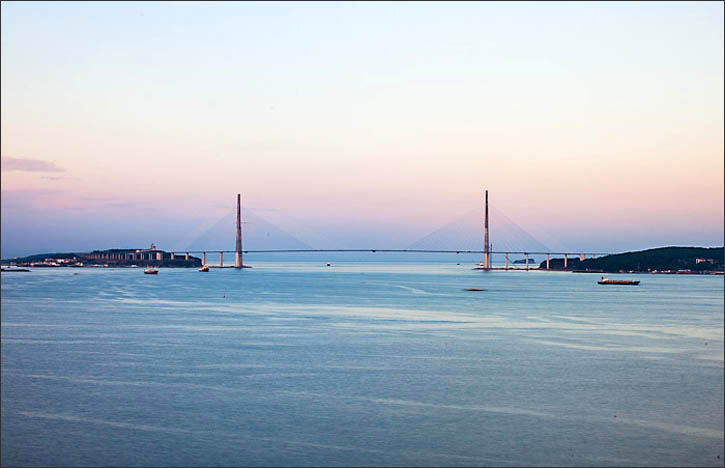 The world's longest cable-stayed bridge opened across the Bosphorus East Strait
---
The Mayor of Vladivostok Igor Pushkaryov was on hand to cut the ribbon on a structure 70 metres above the water.
The official opening ceremony had been presided over by premier Dmitry Medvedev on 2 July, after which there was a 'testing mode'.
The only traffic allowed to pass during this period was for construction work associated with the summit for which a spectacular investment of some $20 billion has been allocated, with the hope the legacy will kick start a dramatic economic improvement in a part of the country plagued by disappointing growth, corruption and crime .
'It is just a beautiful structure, embodying the genius of engineering,' said Medvedev of the bridge last month.
He claimed: 'Vladivostok is probably better than San Francisco, but nevertheless there are similarities that come into mind because there is also an ocean, suspension bridges and the similar terrain.'
It was Soviet leader Nikita Khrushchev who dubbed the city 'our San Francisco'.
Medvedev insisted the summit legacy, including this bridge and another costing an estimated $560 million across Zolotoi Rog Bay in Vladivostok, will pay dividends for the Far East.
'Everything that we've done in the past few years is, of course, linked to the summit, he explained.
'But it's not for the summit - it's for you, for all who live here.'