But before making their exhausting flights, recent weeks have seen an outpouring in the foreign media about the excitement of sightings of Siberian birds, especially the rarer breeds.
For example, one of the Daily Star in Scotland issued a 'Red Goose Alert', informing its readers: 'A rare Red-breasted Goose from Siberia has been spotted munching grass in a field near Achrimsdale, Sutherland.'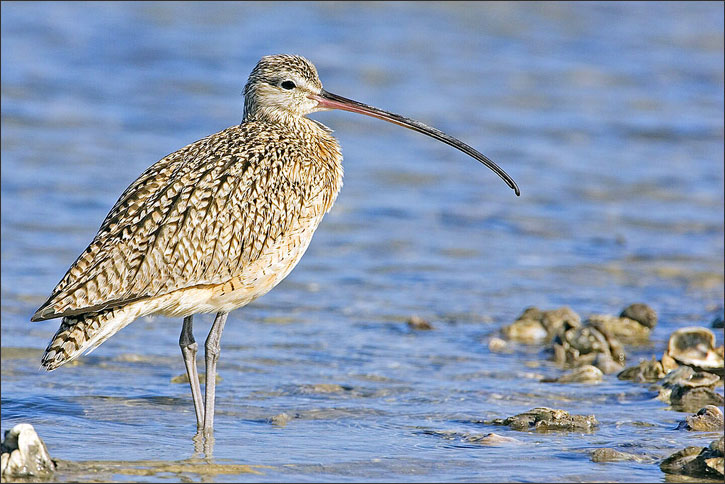 ---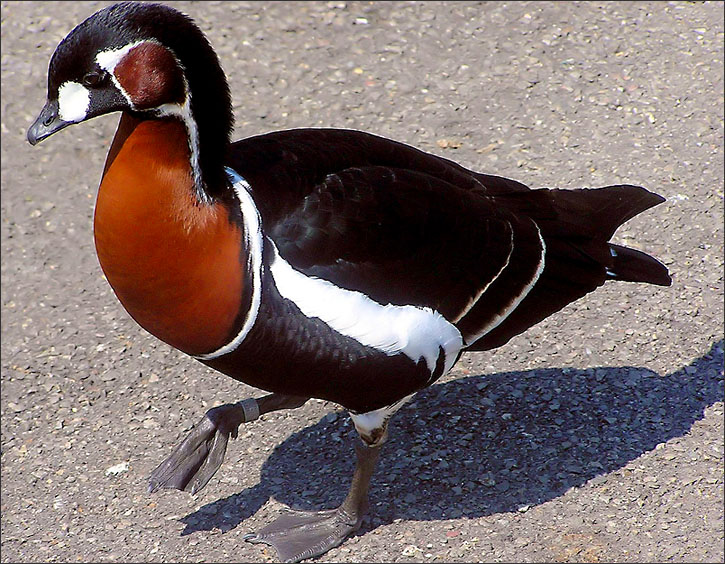 Red breasted goose, and curlew, were spotted by the bird-watchers in Scotland and Australia
On the other side of the world, the Ballina Shire Advocate newspaper in New South Wales, Australia, excitedly told its readers that a 'rare sighting' of a curlew had been made by the Ballina Shorebird Team. The curlews do not often venture so far south, apparently.
One bird that attracts twitchers is the sharp-tailed sandpiper which migrates from the Arctic regions of Siberia as far south as Indonesia, Papua New Guinea, the Solomon Islands, New Caledonia as well as Australia and New Zealand.
This year in Queensland, the Capricorn Coast Mirror's bird-watcher Greg Thomas explained that around 140,000 annually make the flight to Australia, which seems a healthy number.
Australian bird-lovers were 'tipping their lids' in respect to the birds that fly in thousands of kilometres, revealed the Northern Territory News.
'They arrived from their epic flight exhausted.'
'Anything up to five million waders - from tiny sanderlings to mighty curlews - migrate from nesting grounds in Siberia to Australia and back again,' - it explained.
'The secret to their success is to live on mud flats and other wetlands that are rich in wildlife, especially worms and tiny crustaceans,' said Dan Weller of BirdLife Australia.
But further north in Singapore, the behaviour of another Siberian wader, the curlew sandpiper, is troubling the Straits Times.
'It is getting here a day later in the year than it did three decades ago, which could signal it is changing its migration patterns as temperatures rise up north," warned the newspaper.
Local birdwatcher and junior college lecturer Yong Ding Li made clear this was a cause for concern. 'If they don't reach their breeding sites on time, food might not be plentiful and survival rates may be lower,' he warned.
There are also deep concerns in India - which boasts no less than 600 species of migrating birds, according to The Hindu newspaper.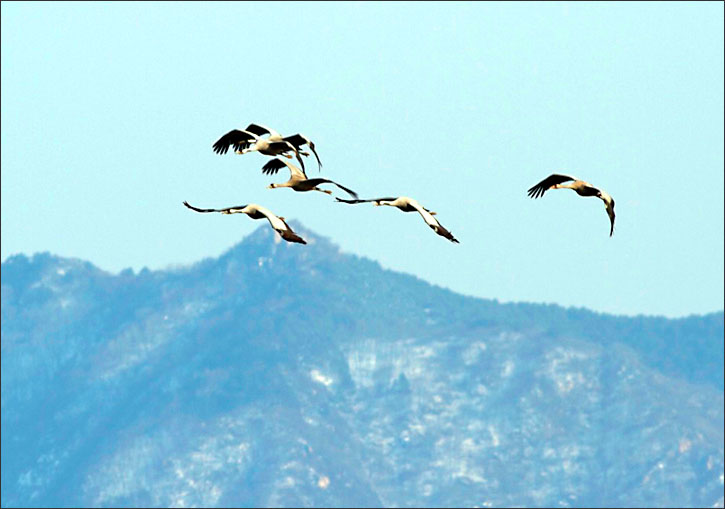 Siberian Cranes on their way to India
A report in The Pioneer from New Delhi highlighted a government initiative to from the Environment Ministry to woo back Siberian cranes to India.
'The Governments of India and Russia have also signed a bilateral treaty to conserve cranes and ensure their safety in the breeding and wintering sites,' said the paper.
Memorandums of Understanding have also been reached with a number of countries the cranes overfly to reach India, notably Kazakhstan, Uzbekistan, Afghanistan, and Pakistan.
The paper says there have been in recent years a 'large number of reported killing of these species en route their migratory paths especially across Pakistan and Afganisthan'.
'According to estimates available at its peak, in 1965, Bharatpur had over 200 Siberian Cranes. However, the number dwindled to five in 1993.
'Then, after a gap of three years, four were spotted in 1996. This was reduced to barely a pair of these birds by the late 1990s, following by the last pair seen in 2001,' said the Pioneer.
'It is clear that their route has undergone a change owing to a variety of reasons," said Dr. Asad Rahmani, a noted Indian ornithologist.
One factor was US military activity in Afghanistan, he believed.
Measures are being taken to restore the wetlands in Keoladeo National Park, a major wintering site of the Siberian Crane.
Meanwhile, Western tourists in Thailand were delighted at a sighting of the 'critically endangered' spoon-billed sandpiper, a native of Chukotka, in the salt pans of Samut Sakhon, near the royal seaside retreat of Hua Hin.
'It seems this migratory bird from Siberia is quite the twitching prize - turning off the main road into a private salt farm, we suddenly find ourselves in the presence of dozens of other birdwatchers, armed to the hilt with scopes and long-lensed cameras,' explained writer Julie Miller in the Sydney-based Sun Herald newspaper.
Luckily she is with Amorn Liukeeratiyutkul, chairman of the Bird Conservation Society of Thailand, so they know where to look.
'There's a buzz in the air as Amorn discusses the lay of the land with his fellow birders; the elusive wader has indeed been sighted that morning. Whipping out his scope, Amorn focuses towards where the bird was last spotted; and within 20 seconds, he has it in sharp focus.
'He pulls back, chuffed, to allow his new recruits to share the moment: we all gather around, as excited as if we've spotted a tiger.
'I squint into the scope; there, centre lens, is an unassuming white bird with brown-flecked wings, distinguished by a spatulate bill waving side to side like a metal detector in search of shrimp.
'This little critter is one of just 400 left in the world; there are fears that the species will be extinct within 10 years as its Siberian breeding grounds are lost to development.'
Far away in the US, Midwest newspaper The Tribune-Star raved about how 'a curlew sandpiper that breeds in Siberia has delighted birdwatchers by making a rare stop in Indiana.
Indianapolis bird enthusiast Ryan Sanderson spotted the bird in late May at the Goose Pond Fish and Wildlife Area.'
In the UK, meanwhile, the Guardian newspaper reported on wildlife sites in the country's main cities and a Royal Society for the Protection of Birds site in Belfast, the Northern Ireland capital, was mentioned as the best place to see visiting Siberian visitors.
'Just a few minutes' drive from the city centre, the RSPB reserve at Belfast harbour is a superb place to see wintering birds from Siberia and Scandinavia, including ducks, geese and waders.'
Elsewhere, in the UK, the Northen Echo newspaper in England reported that 'a superb cock Siberian Stonechat visited Holy Island' off the eastern coast.
And on the far-flung Shetland Islands, there have been sightings of the Siberian Rubythroat, as the Sunday Express newspaper's excellent 'Birdman' has recorded.
He has also reported on birds off their usual track in Britain, for example the black-throated thrush 'a rare and distant wanderer from Siberia', more commonly found in India and Iran.
Another - touching down near Heathrow Airport in London - was a brown shrike, a 'birding superstar' which flew in 'from east of Russia's River Ob'.

And in recent years a very rare sighting of a tufted puffin by bird watcher Murray Wright sparked a debate on whether climate change is leading to Pacific birds, like commercial shipping, using the Northeast Passage to visit Europe.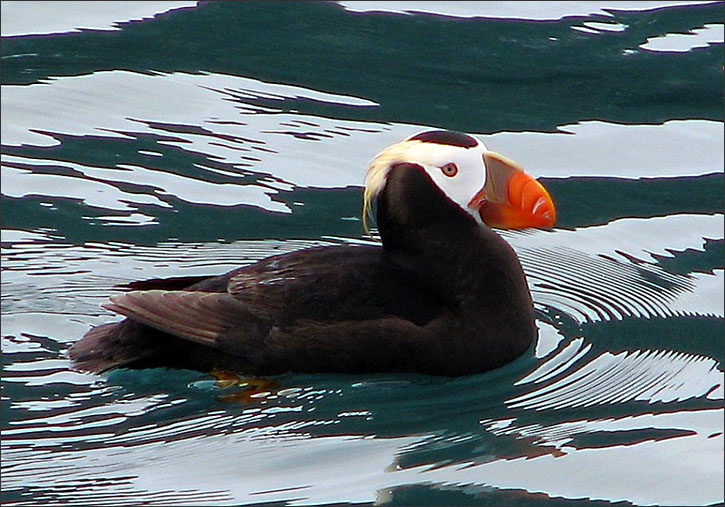 Tufted puffin appearance in UK sparks debates on potential climate change influence on birds migration. Picture: northtoalaska2010.com
'The jury, which consists of the representatives of the Estonian Ornithological Society and Estonian Air will select the 20 most suitable candidates from which the public can vote their favourite,' said a report.
'Every autumn, water birds in Siberia embark on the same journey as our ancestors, who travelled from the taigas and the tundra to the coast of the Baltic Sea,' said Mati Kose from the Estonian Ornithological Society.