Omid made its first journey to Fereydunkenar in 2007 and has returned there every year since. Picture: Mehr News Agency
The last remaining western Siberian crane has returned to its winter home in Iran for the seventh consecutive year - having clocked up an incredible 78,000km in the process.
Environmentalists have announced the rare migratory bird had landed at wetlands in the north of the country on Saturday morning and is now 'resting and feeding'.
Named Omid - the Persian word for 'hope' - the crane made its first journey to Fereydunkenar in 2007 and has returned there every year since.
Initially, two other birds made the same 6,000 km trip but they were unfortunately shot, leaving a sole traveller from the western Arctic population.
Since its first epic flight for warmer climes, the male Siberian crane has clocked up enough miles to circumnavigate the Earth twice.
Narges Rouhani, an environmental activist, said: 'The crane, which is called Omid, landed at Fereydunkenar wetland on Saturday at 7.30 am. He is currently resting and feeding there. Omid flies a distance of about 6,000km each year to arrive in Iran.'
The Siberian crane, which is also called a snow crane because of its white colour, is one of the rarest birds in the world with a population just 3,200 in Russia. Most of the birds belong to the eastern population, with 95 per cent of them wintering in the Poyang Basin in China.
But Omid is believed to be the last remaining bird from the western population, which prefers to spend winter in Iran and, previously, India. The western population was only discovered in 1978, when there were just 14 birds, but hunting along the migration route has seen them all but wiped out.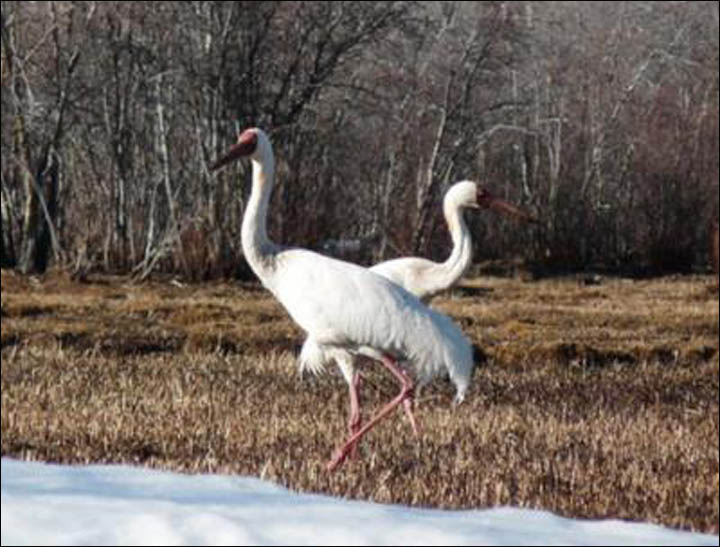 ---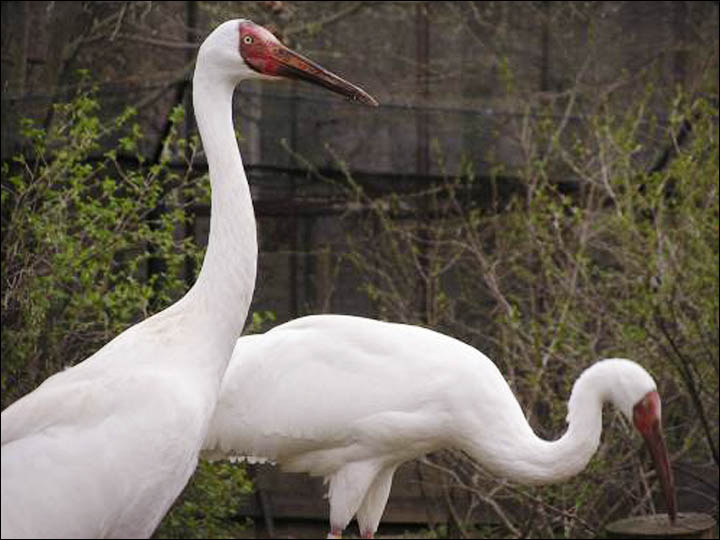 White cranes in Yakutia (top) and in Sultanpur National Park, India (bottom). Pictures: I. Bysykatova, zoochat.com
Omid last flew to Iran on October 30 last year, having travelled south to Fereydunkenar, on the Caspian Sea, from the far north of western Siberia. The region has one of the richest ecosystems among the northern cities of Iran.
Omid's epic annual migration is followed closely by birdwatchers, many of whom write blogs about his journey.
In February, Austrian ornithologist Leander Khil even travelled to Iran to catch a glimpse of the crane. He wrote on his website: 'What a chance! What a moment! Omid, the last western Siberian Crane, stood in the shallow of water of the rice field, feeding on aquatic plants.
'Two grey herons beside him gave us an impression of how huge he was. With the sun already set, we absorbed every second of the encounter, appreciating how fortunate we were.'
Meanwhile, environmentalists in India are calling on new measures to prevent the killing of Amur falcons, which migrate from Siberia in the winter. Officials in Nagaland have taken steps to stop the birds being targeted but they are still being shot, or trapped, by hunters in neighbouring Manipur.
One environmentalist in Tamenglong said: 'In the olden days catapults were the means of killing them. But with the advent of air guns, the number of kills have increased exponentially.'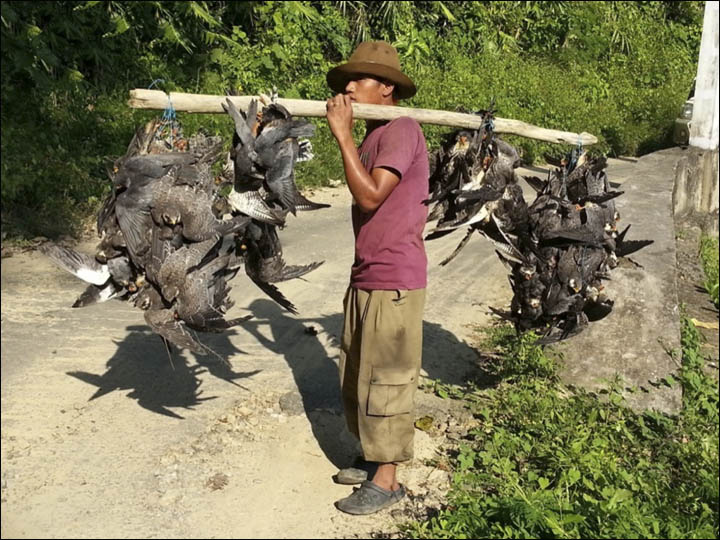 Amur falcons are still being shot, or trapped, by hunters in India. Pictures: Ramki Sreenivasan
Amur falcons head south in winter from eastern Siberia, near the border with China, and on their migration to Africa they rest in northern India.
Experts say they stay in the Nagaland and Manipur areas for at least a month until November before flying over central India and the Arabian Sea before reaching east Africa.
Hunters do not just target the birds for their meat, with a market value of 35 rubles for each live falcon. Forest rangers raided sites in Manipur on Friday and recovered 30 nets used to trap migratory birds.