Look, the snow! Katerina Detsura, 20, pictured enjoying the Krasnoyark fun park activities
This winter snow fell for the first time in early October - here is what I saw from the window of my apartment that morning.
'Not bad', - I thought. 'Winter has started, so it's time to go to the fun park'.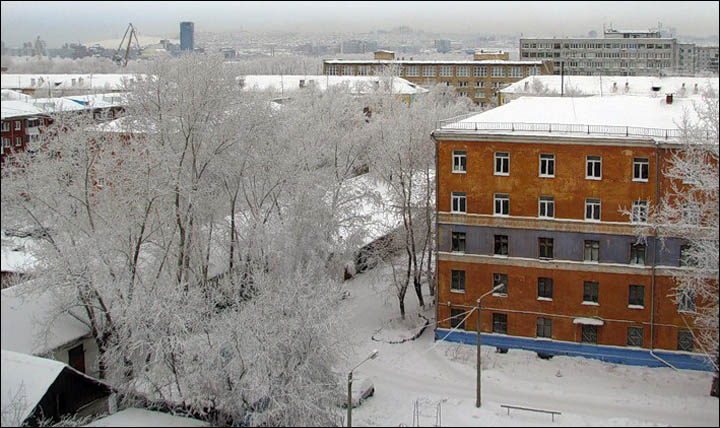 Good morning, winter - view from Katerina's apartment
In Krasnoyarsk we have 'Beaver Log' - and I'm sure that very few big cities have such fab downhill ski-ing right on their doorstep. The park borders State Reserve called 'Stolby', famous for its amazing rock structures - and is only a short twenty minutes drive from the city centre.
Whatever the season, there is sport and recreation going on here. The Austrian-made chairlift and well-groomed pistes mean you get a tastes of the Alps or the Rockies right here in our city which is maybe still better known to the world for its industry.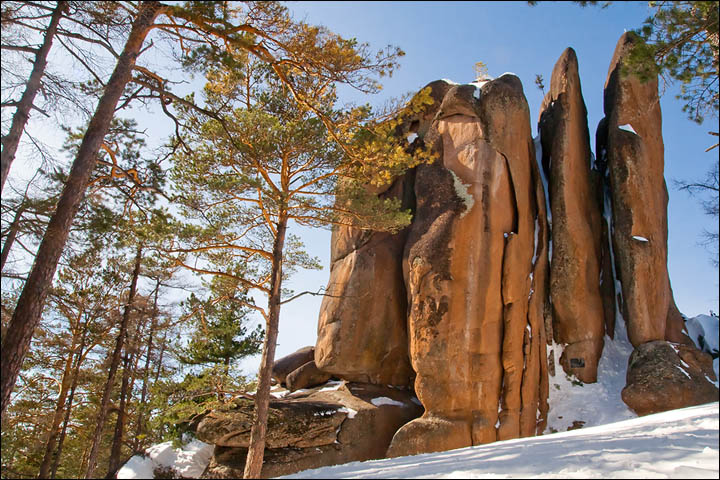 ---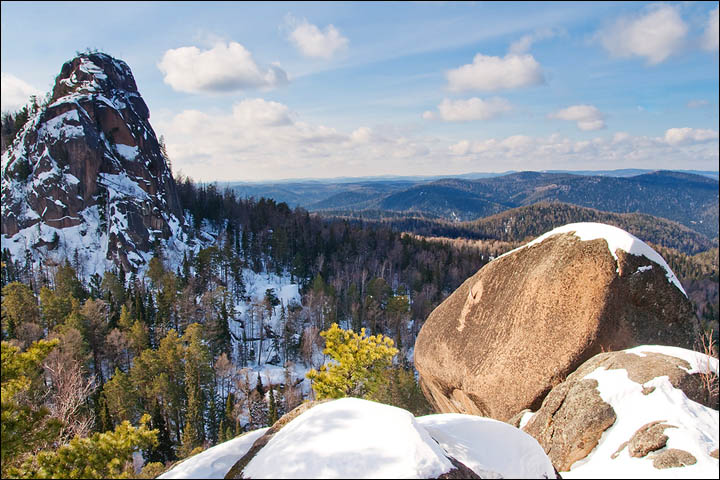 Stunning views of Krasnoyarsk 'Stolby' natural reserve. Pictures: Vera Salnitskaya
Visitors from Russia and abroad are often stunned by the beauty of this place, which they perhaps had not expected, making the surprise even greater.
The facilities are first class with a high level of service in the magical Siberian nature. Clean air and modern technology are in harmony here, and for me each time I come up here, it brings a feeling of relaxation.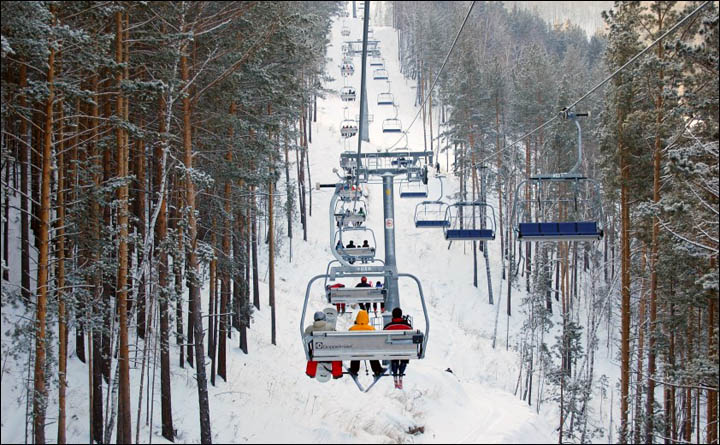 ---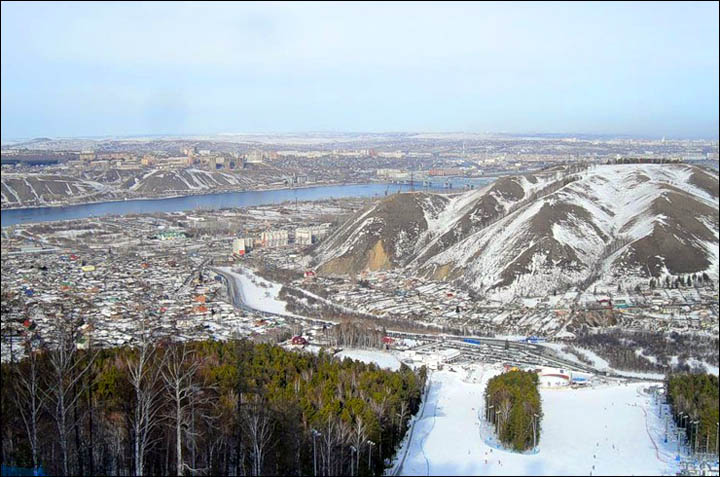 River Yenisei which flows through Krasnoyarsk hasnt't been freezing for winters for more than 40 years, despite temperatures getting as low as -35C
In the summer and during the off-season, there is plenty to do, too, for young and old: guided walks to the chair-lift, extreme rides, a beach and pool of warm water in the open air, playgrounds, picnic pavilions, cafes, bars, premium restaurants, a SPA-centre, horse riding, as well as all kinds of daredevil activities.
This is a place for family gatherings and celebrations, entertainment events, sports competitions and business meetings. If you want to see Krasnoyarsk relaxing, well, this is our playground, all the more special as the first snow takes hold. Cold it maybe, but very often it is sunny with clear blue skies.
Finally the weekend is here - it's time to go out of town, get some fresh frosty air, enjoy the beautiful scenery and store energy for the week ahead.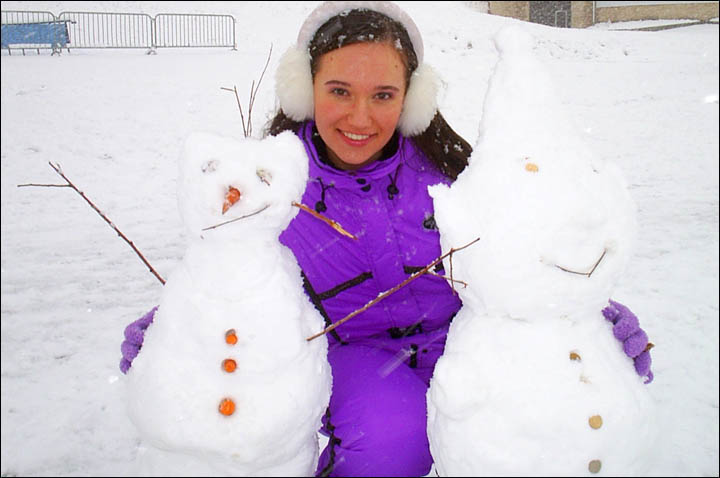 Just behind me is a paradise for all skiers and snowboarders, with breathtaking mountain slopes.
Here I am pictured with the symbol of the park - a Siberian wolf - and a map outlining all the rides, trails and entertainment.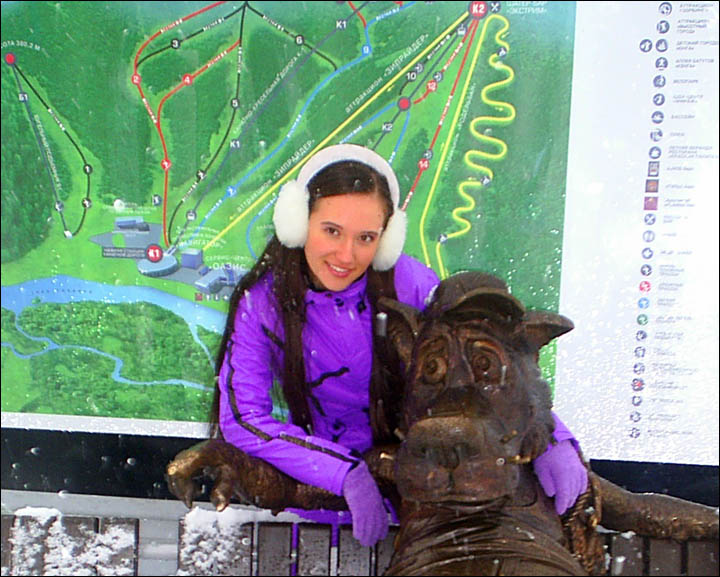 Katerina Detsura, 20, celebrating first snow in Krasnoyarsk 'Beaver Log' fun park
My target for this winter is to learn to snowboard.
There is time, the snow has only just started covering the ground. We've got the most wonderful season still fully ahead of us, with snowball fights, skating, skiing, making snowmen - and enjoying the whitest Christmas and New Year in the world.
Katerina Detsura, 20, is a fourth year student in the TV Department of the Journalism Faculty of the Siberian Federal University in Krasnoyarsk.