An extraordinary number of top-class Thai massage spas, staffed by highly-qualified native masseuses and masseurs, have opened across Siberia.
These brave Thai specialists live far from home, and in a climate that must seem in winter like jumping from then oven to the freezer, yet they are winning plaudits for their skilled work.
The largest city in Siberia, Novosibirsk, has at least four salons, all staffed by 'masters' recruited direct from Thailand.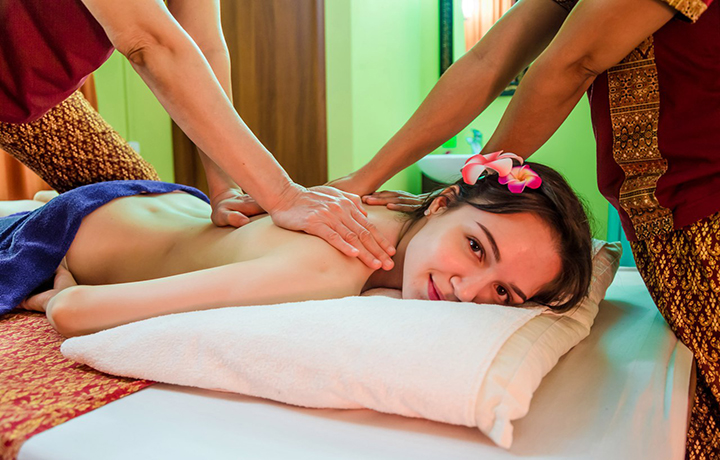 Picture: Thai Times, Tomsk.

---
One of these, Royal Thai, also has a spa in Yakutsk, the world's coldest city.
They promise Siberian clients massages 'in accordance with the ancient traditions of Thailand, designed to fill the body with bliss, and the soul - with harmony and tranquility.
'Once available only to kings, spa programmes retain the highest standards: they use the best aromatic oils, natural balsams and creams, and only highly qualified specialists, who graduated from a special school, are allowed to perform rituals'.
Clients receive 'a fragrant cleansing peeling, relaxing oil massage, a delicate milk bath, a massage with moisturising lotion and other sensual and effective rituals.
'All of them are aimed at stress relieving, deep relaxation, renewal, healing and luxurious care for the whole body.'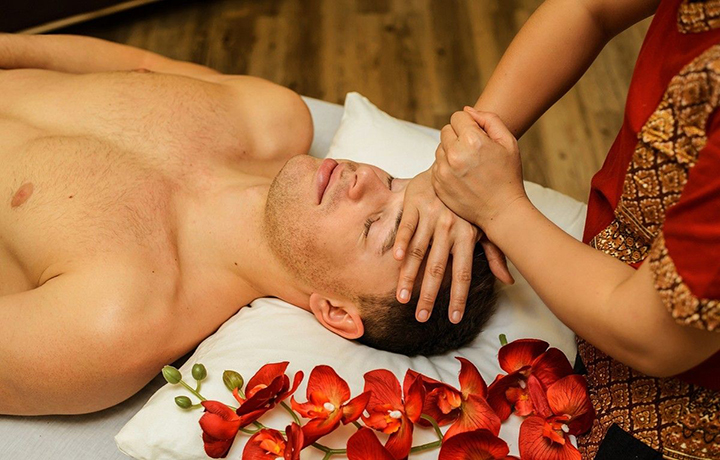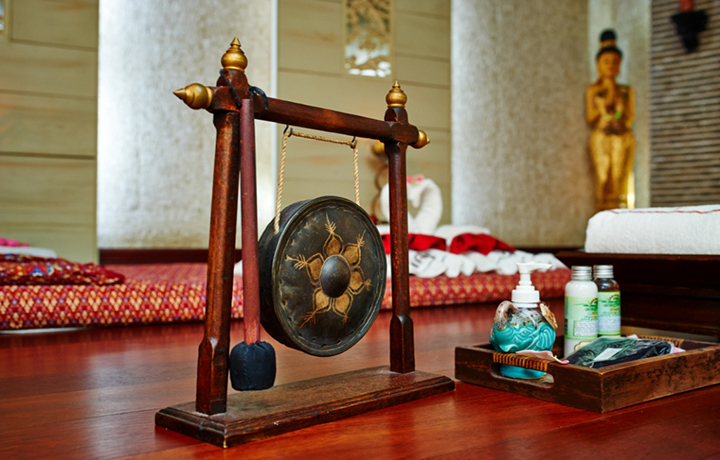 Pictures: Oasis Spa, Novosibirsk (above); Thai Spa, Vladivostok (below).

---
Similar procedures are available at spas now open in many Siberian and Russian Far East cities apart from Novosibirsk and Yakutsk - namely Surgut, Omsk, Tomsk, Krasnoyarsk, Irkutsk, Ulan-Ude, Chita, Khabarovsk and Vladivostok.
Samui spa styles itself 'a small island of Thailand in Novosibirsk'.
This spa - like some others - introduces its Thai 'masters', their specialities in massage and also their personal skills, helping to see them as people far from home, who nevertheless love their vocations and enjoy taste of Russian culture.
Thay, aged 51, for example is described a 'wizard who masterfully owns all kinds of Thai techniques', an expert practitioner and a massage teacher.
'The greatest joy for her - not only to cook fish, but also to catch it herself. Fishing for her is a real mystery helping to feel welcome at one with nature', the spa explains.
She is 'the guardian of our little home of Thai masseuses at this spa, a caring and loving mother, (who) keeps peace and harmony in our team, taking care of us and maintaining a comfortable atmosphere for all'.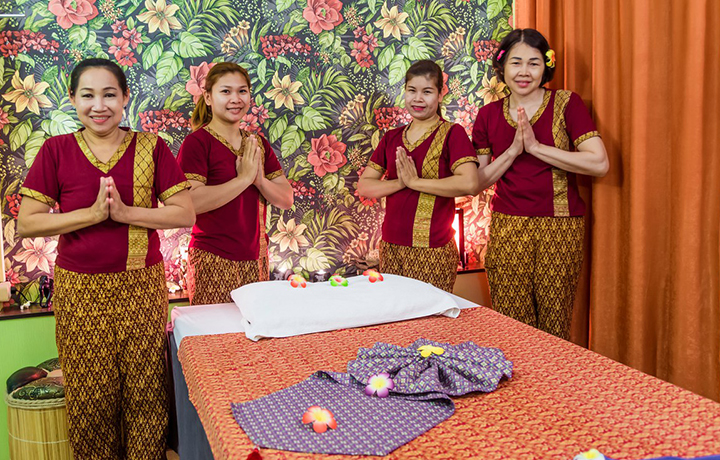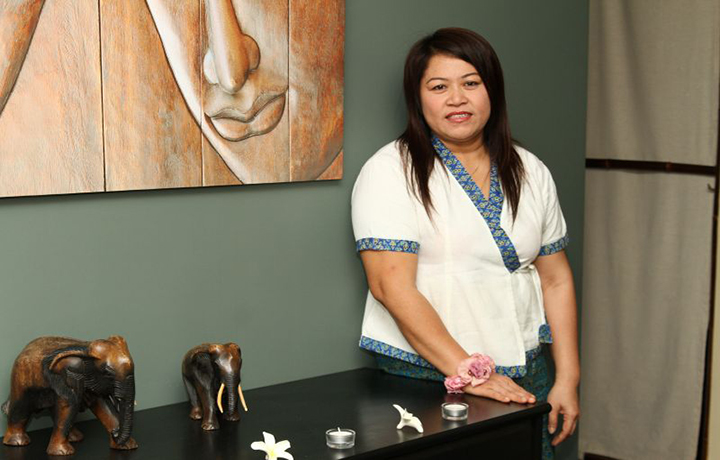 Picture: Thai Times, Tomsk (above); Thai Nari, Krasnoyarsk (below).

---
Arun, 44, has worked in Russia previously and has learned to understand the language.
She enjoys walks in the fresh Siberian air.
None, 41, meanwhile, who worked before in Bangkok, promises a 'little miracle' as she massages Siberians.
In her downtime she enjoys speaking to her two daughters back home 'who she loves with all her heart.
'She can spend hours talking with them on the phone.'
In Vladivostok, Thai Spa will soon mark its tenth anniversary, and was the first to open in the city where there are now several other authentic salons.
It proudly boasts its membership of the Thai SPA Association and has been lauded for its excellence by knowledgable visitors from Bangkok.
'The pride of our salon is certificated Thai experts, who posses years long experience all over the world,' they say.
'When choosing masters for the salon the main criterion is the level of their education and working experience.
'Only those, who have good references for working in Thailand and other countries, are considered as job candidates.'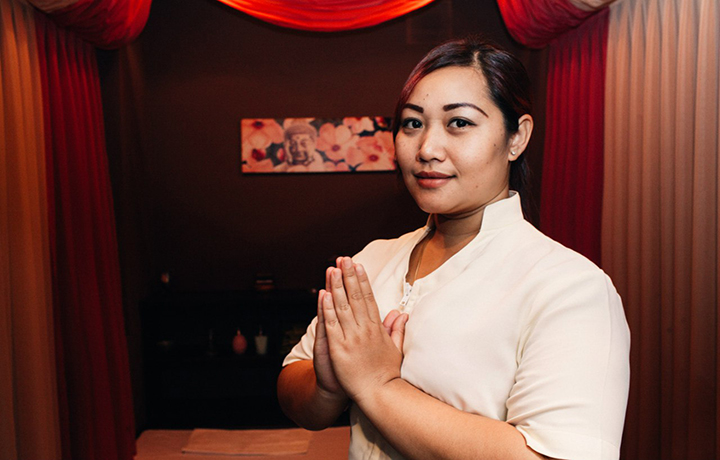 Picture: Thai Way, Surgut.

---
They offer a special experience for young girls aged from eight to 14 - for two friends to attend together: spa holidays for princesses, all according to Thai techniques.
'We combined the best treatments in order to make your child to feel the beauty and to be able to take care of her own body, relax, and to imagine themselves in the beautiful journey,' explains the salon. The selection of treatments include a chocolate or a fruit scrub, aromatherapy massage and a bubble bath.
Elsewhere in Vladivostok, Siam Spa offers 'a romantic escape for you and your sweetheart' with a special couples offer.
Some 4,300 km east in Surgut, the salon Thai Way promises to 'relieve feelings of anxiety, nervousness and irritability'.
More than this, they assure locals that they can expect an unconditional increase in health, full relaxation, getting rid of stress, increased mobility of the joints, delicate stimulation of body systems, improved blood circulation, absence of muscle pains and a filling of fresh energy.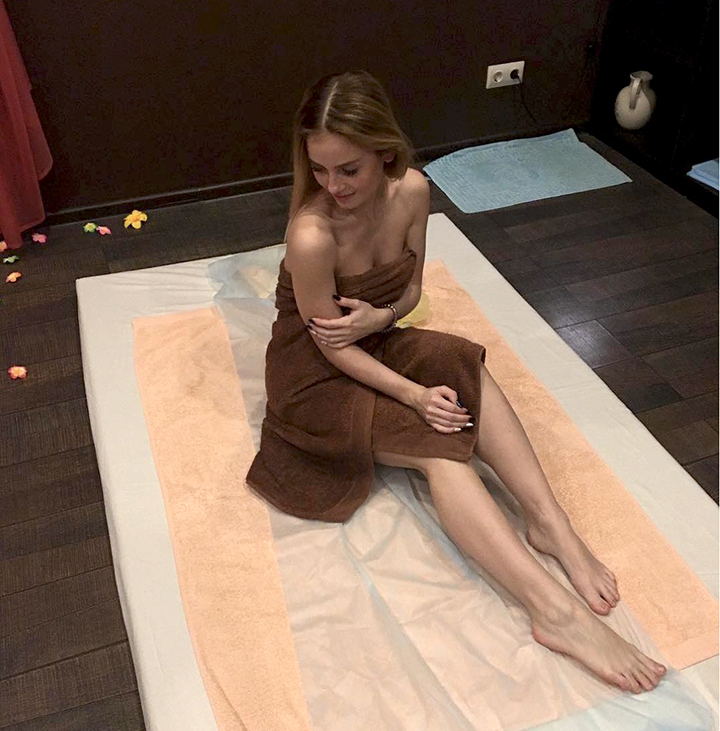 ---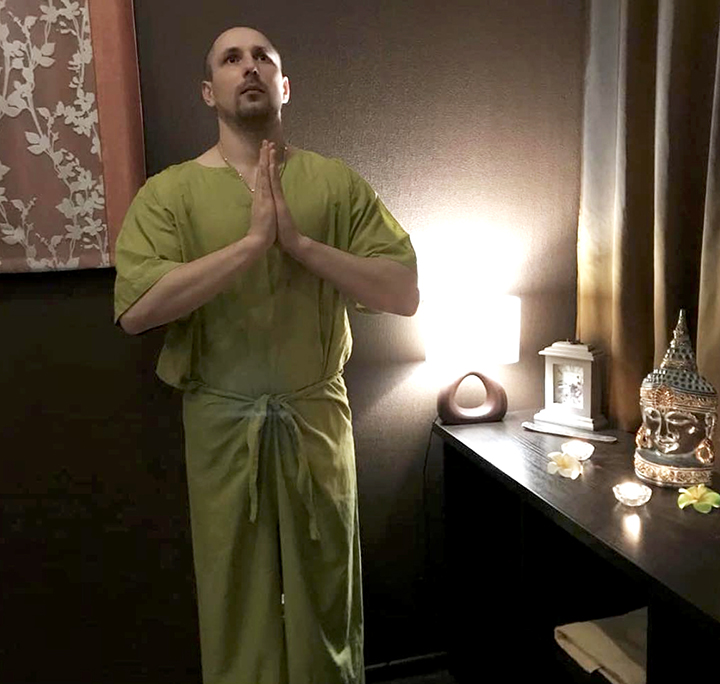 Customers share pictures from Thai massage spa in Surgut, Western Siberia
---
In Krasnoyarsk, at Thai Nari, there are specialists both from Thailand and the Philippines in an 'oasis of comfort' at democratic price.
Another Krasnoyask spa, TaiRai, makes a good point that in Siberia 'each of us is regularly exposed to various stress factors: unfavourable ecology, past illnesses and unhealthy diet, lack of sleep and extreme climate. All this cannot but affect the appearance, and cosmetics do not always help to improve the situation'.
In Omsk, at Tainy Siama - the Secrets of Siam - they salute the Thai specialists as 'children of nature with the gift of intuition'.
At Thai Times in Tomsk, the owners say they wanted to recreate in Siberia a little of the 'paradise on earth' that is Thailand without the need for a long flight.
In Yakutsk, where winter temperatures fall below -50C, the Thai masseuses deserve a medal for living in temperatures some 85C adrift from their homeland.
Here as well as a Royal Thai spa, there is a Way Thai spa, one of a network of dozens of such spas, run by franchises, all around Russia.
There are no less than 40 Wai Thai spas in the capital city, Moscow, and many more around the regions, including the Siberian cities of Irkutsk, Ulan-Ude and Chita plus Khabarovsk in the Russian Far East. Like other high quality spas, they stress than the selection of staff is crucial, and that only the best are recruited.
Customers share pictures from Thai massage spa in Surgut, Western Siberia
---
As they say: 'Do you know that feeling, when being on the massage table you feel there is something wrong? They've pushed somewhere wrong, stretched too strongly, made you feel uncomfortable. We've been there too.
'This is the reason we spend so much time choosing Thai massage therapists for Wai Thai.'
'Feeling easiness, relaxation, gracefulness and newfound – this is what you should feel after massage. We are certain about our massage therapists, they all are professionals.'
In Irksutsk, at Siam spa, they display on their website the certificates from Thailand showing the qualifications of their 'masters'.
They also rightly point out that while the influx of masseurs and masseuses may be relatively recent, warm and trusting relations between Russia and Thailand go back a long time.
As they say: 'A very important role in the history of the Thai state was once played by Emperor Nicholas II, who was very friendly with one of the kings of the Chakri Chulalongkorn dynasty, Rama V. Such a strong friendship could not but affect the traditions and culture of the Thais.
'For example, guardsmen of the palace complex still wear a uniform identical to the form of the Russian imperial army of the times of Nicholas II, which the Russian emperor presented to the King of Siam, during his visit to Russia.
'We can not depart from the traditions of this ancient and wise people, therefore in our SPA-salon in Irkutsk we offer only the best Thai massage!'