New Vladivostok airport terminal has been opened in June 2012. Picture: Vladivostok airport website
A lot has been made of the city's expensive recent facelift, and some of this is genuinely spectacular.
The three new grandiose bridges do generate a feeling of San Francisco or Hong Kong. They are great new icons as well as practical transport solutions, and help to highlight Vladivostok's desired emerging role as a major gateway to and from a vibrant Russia in Asia and the Pacific.
And yet....
As usual, the world leaders attending APEC will not see the real city. They and their top officials will be in sped in their helicopters or in limousines along makeshift Zil lanes from their planes to the summit venues.
Still, hopefully they will return home impressed by the changing scene in Vladivostok which, after all, was for many years closed to the world during the Soviet era.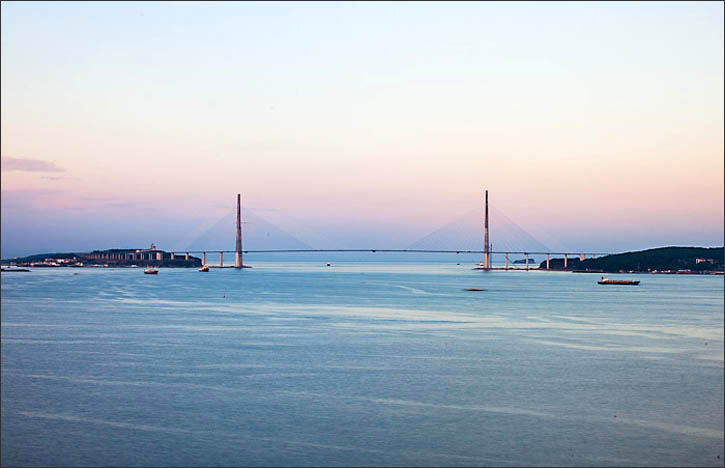 Spectacular... New bridge from the city to Russky Island, nicknamed 'Cat's ears' by some of the locals.
Other summiteers - perhaps business visitors, influential officials and opinion forming journalists, as well as those arriving in the afterglow of the event - will taste the real place a little more.
If they arrive from abroad, as some of the APRC advance guard are starting to do, they will find a woman by the door of their plane pointing a small camera-like object into their faces as they emerge from their international planes. What is it? Who is she? No-one bothers to explain.
Most will conclude - and perhaps Tweet - they've had their first encounter with country's secret services before even getting off the plane. So the old stereotype lives on.
Vladivostok has built a spectacular new airport terminal. On the front, it says Vladivostok International Airport. It opened in June with Champagne for the first internal arrivals. Yet for some reason, many international flights are not now using it. When we called no-one could explain why not.
Passengers are instead ushered onto hot, overcrowded buses and taken to a dour arrivals halls straight out of Soviet central casting.
APEC officials have a fast track in this old terminal, though it's not much of a track and it didn't seem remotely fast.
Several Western visitors found their passports being scrutinised as if the unsmiling border guard had never seen such untrustworthy documents before, complete with huffs and puffs about the trouble it took her to register them.
It then takes an eternity for bags to arrive on a squeaking belt in a sweltering dark and dingy hall offering no welcome whatsoever.
Venture through customs and there are no helpful signs in English directing you towards the city, or indeed to anything else.
The airport ATM from Sberbank, Russia's largest bank, offers no English-language option as the recently-arrived visitor tries to get his or her roubles.
Nor is there one of those yellow taxi desks, as in Moscow, offering fixed price journeys in (hopefully) safe and licensed vehicles. Instead scowling around the doorway are what resembles a taxi mafia who seem to think APEC means Christmas and offer the first price that comes into their head.
Even so, paying $100 for the ride in from the airport does not entitle you to help from the driver with the luggage. He's too busy blowing cigarette smoke in your direction.
If there is a 'new Russia' being showcased at the summit, then the airport experience is more like the old USSR. The visitor is left wondering whether the effort has gone into creating grandiose schemes rather than improving more mundane aspects like airports and a welcoming touch. The latter, especially, does not cost much.
And then you get to the hotel. Good luck.
Some in Vladivostok are dire and also heavily over-priced for what they offer. The 'remont' here is very late compared to other Russian cities.
The two new Hyatts are still not open - but should be functioning for the summit. (Hopefully the new airport terminal will be too).
But all that's another story. For now, it's a pity about the first impressions.