Welcome to our new blog - Siberian Business Plus aka SibBiz+. Picture: Russian Space Agency
We're monitoring key developments in business across Siberia at a time when experts predict it could be one of the big stories of the next 10 or 20 years.
Getting in touch with the east was clearly signalled in President Vladimir Putin's election campaign last year. Mega investment into the long neglected Siberia and Far Eastern regions is not only predicted but becoming a reality.
Political events such as last year's APEC summit in Vladivostok and the recent visit by new Chinese President Xi Jinping to Moscow all underpin this.
We will highlight business news and gossip which the catch eye of our own pundit Bear in the Market as being significant for Siberia and the Far East.
We will also welcome informed experts to give their views on crucial business developments.
Watch this space
Last week saw President Vladimir Putin in Amur region visiting the construction site of the new Vostochny Cosmodrome. He told cosmonauts in a link-up to the International Space Station that the first launch from Vostochny will be in 2015, and the first manned flight in 2018. He called it 'the construction site of our future'.
What's this to do with business? A lot.
With the Soviet-built launch site in Baikonour, Kazakhstan now 'physically aged', the Russian government sees the new eastern cosmodrome as the key launch focus of a $52 billion investment in space exploration up to 2020.
'We initially planned for rockets that could carry up to 55 tons, but the specialists now think we need to aim for a higher capacity', said Putin.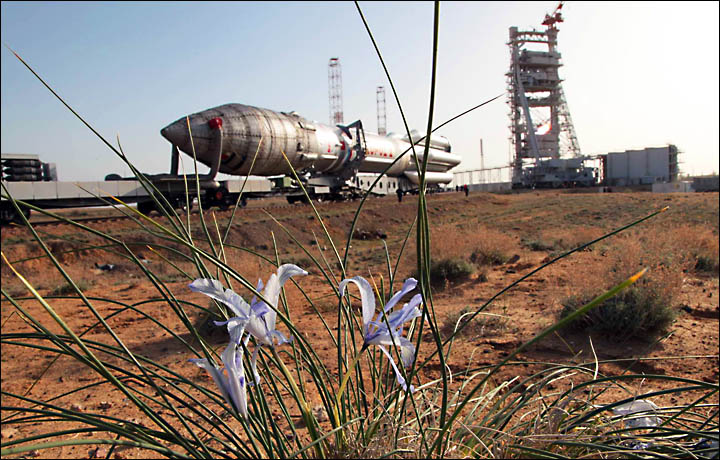 April 12 2013, Proton-M rocket on its way to Baikonur cosmodrome's launch site. Picture: Russian Space Agency
He believes many countries will use it as their launch facility. 'I very much hope that it will be used not only by our specialists, but by our colleagues from the United States, Europe and other countries'.
He vowed: 'Work will focus on deep space flight, and exploring the Moon, Mars, and other space bodies. This site will be the centre for this work.
'We will have not only launch facilities here but also a research centre. I think that we should also move some of the assembly work here, given that we are talking about large cargoes. In any case, I hope that we will have everything here for developing a large segment of Russia's cosmonautics sector in this part of the country'.
Currently the space launch market is worth around $300 to £400 billion a year. He sees that rising to $1.5 trillion.
The name Vostochny does not resonate around the world when we think of the cosmos. It soon will.
East or West for Siberian oil?
Here is the FT speculating in its Beyond Brics blog on how exactly the rising oil exports to China will be delivered, and whether it will involve a cut in supplies from West Siberian fields to European customers. Undoubtedly a subject we will hear more about. Read more here.
Meanwhile, Bloomberg say Transeft could pipe oil from the Kara Sea, an alternative to using ships on the Rosneft - Exxon Mobil development.
As they say, the first task if to discover commercial oil supplies. See full story here.
Letting the train take the strain.....
A number of reports recently have highlighted plans by Russian Railways' plans to invest 562 billion rubles ($17.8 billion) to develop the Far Eastern railway network over the next five years.
A key aim here is less more rail passengers (though this can be expected) than a giant leap in the cargo capacity of Baikal-Amur Mainline (BAM) and Trans-Siberian Railway by 25 million tons of cargo, up from 16.2 million tons in 2011. The Russian government is ready to upgrade the two linked railways by 2017, so promoting the socio-economic development of Siberia and the Far East region.
Krasnoyarsk Railway Station, Western Siberia. Picture: The Siberian Times
Russia is using these world famous rail lines to entice cargo that currently going by sea from Europe to Asia or vice versa. The aim is a faster, more reliable service.
Siberian coal to China
Out of China is news that En+, controlled by Oleg Deripaska, is poised to start a feasibility study it is jointly developing with Shenhua Group, the world's largest coal producing company. The aim is supplying China with coal. Expect to hear much more about joint Russian-Chinese ventures.
En+ CEO Artem Volynets told the South China Morning Post he will visit Siberia and the Far East to select sites for the project.
'En+ signed an agreement with Shenhua, the world's largest coal producer, and China Development Bank during President Xi Jinping's visit to Russia last month', reported the Hong Kong newspaper.
'They will invest US$2 billion on coal mining, build basic transport infrastructure, develop or improve port facilities in the Far East region and handle the transport and sale of coal. We were in talks with several Chinese coal producers and finally chose Shenhua, because it's the most experienced company, capable of developing large projects', said Volynets.
Another preliminary agreement was signed by En+ subsidiary Rusal and the Aluminium Corp of China last month to jointly work on technology innovation, mining resources development and investment.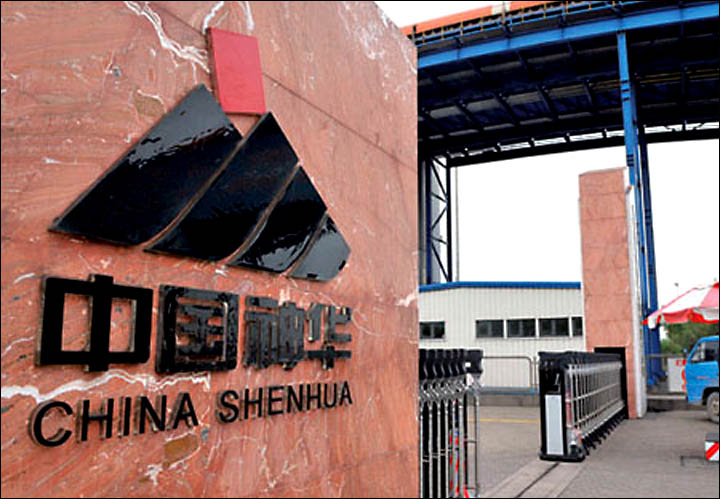 En+ CEO Artem Volynets told the South China Morning Post he will visit Siberia and the Far East to select sites for the project. 'En+ signed an agreement with Shenhua, the world's largest coal producer, and China Development Bank during President Xi Jinping's visit to Russia last month', reported the Hong Kong newspaper. Picture: South China Morning Post
Hydro-power to China
Another one to watch is EuroSibEnergo, another subsidiary of En+, and their plans to sell hydropower to China. The aim is a hydropower station with a capacity of 10 gigawatts in eastern Siberia in a joint venture with Yangtze Power. The WWF is helping select potential sites with the minimum environmental damage.
'The state grid companies of China and Russia are now doing preliminary studies for the construction of a power line from east Siberia to somewhere near Beijing,' said Volynets.
'We believe Siberia can produce sufficient hydropower to satisfy China's big demand for clean energy.'
Irkutsk gets Nano investment
RusNano is investing $48 million in Nitol Group's project establishing Russia's first major facility to produce polycrystalline silicon (polysilicon) and monosilane. It will be in Irkutsk region.