Mikhail Fedoruk, 56, newly-elected Rector of Novosibirsk State University
In a robust defence of Novosibirsk State University, Fedoruk called on the Russia's best scientific minds to make his institution the place they develop their talents.
'We are not at all a local university. I have said it before and repeat it now: Novosibirsk is the best place for those keen on science.
'If you wish to go into business or run the State, do go to Moscow. But if you want to deal with science, there is no better place in Russia than Novosibirsk, and there are not many such places in this world.'
There are different ways of judging universities on international league tables and Fedoruk is looking for 'very ambitious' improvements in all of them.
'According to our very optimistic forecast by 2020 we will be in the 89th place in 'The Times' ranking. But we have to work hard to achieve it.
'Together with the Siberian branch of the Russian Academy of Sciences, Novosibirsk University will provide at least 10,000 scientific articles that will be quoted in other sources. At the moment we have such 3,000 articles, and 30% of them are on physics.'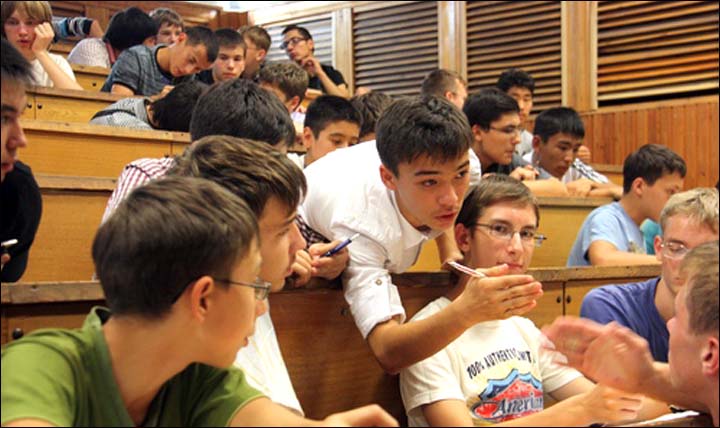 ---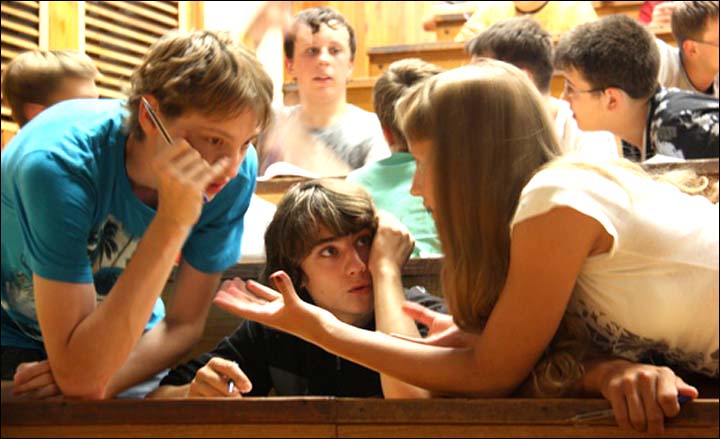 In physics we trust: a summer school competition for students of Novosibirsk State University. Pictures: phys.nsu.ru
Fedoruk emphasised: 'In order to get into any rankings we should unite our resources with the Siberian branch of the Russian Academy of Sciences in the maximum possible way.
'This is our main advantage. We were created together, we are highly united. No other university in our country has got such an academic foundation - neither Tomsk, nor St Petersburg. And without it there is no sense to talk about any rankings.
'We plan to create about 100 new laboratories together with the Siberian Branch. We see it as our strategic tool which will help us to get into the rankings. These laboratories will be kind of engines and will provide the large number of quoted articles and secure our positions in Nature and Science magazines and also in other publications on physics, math and biology.'
He spoke of the need for the university and the Siberian Branch to work closely together and he praised the work of its chairman, Alexander Aseev.
'I discussed it with Academician Aseev that we should create joint laboratories. The head of the Siberian Branch and the rector of Novosibirsk University should meet regularly. The human contact is very important here.
'We just cannot do without each other. We have already got about 100 joint scientific departments and we have a good chance to solve our ambitious problems. The main thing is not to lose this chance. Within a year we must get going and improve our positions in the rankings.
'I am grateful to the academician Alexander Leonidovich for the decision to support financially the lecturers of Novosibirsk University who also work in other institutes of the Siberian Branch. There are about 80% of such lecturers. Next year this support will be increased.'
He also called for the university to embrace English if it wants to gain the international recognition its highly talented experts - especially scientists - seek and deserve.
'We just can't move forwards if we don't provide the fluent speaking of the English language. We need educational programmes in English, and so far even our website is only Russian.'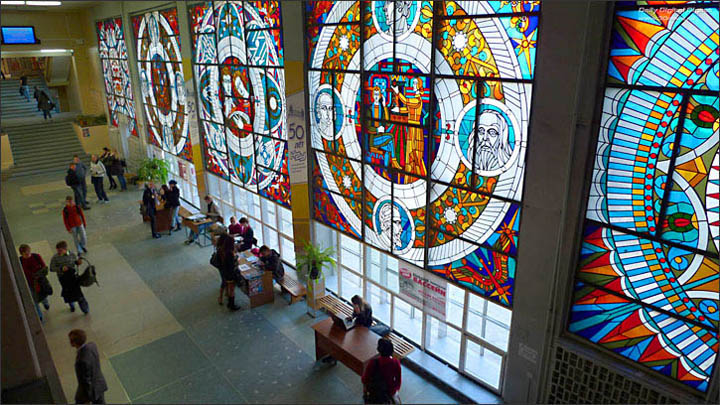 'No other university in our country has got such an academic foundation - neither Tomsk, nor St Petersburg'.
He said the university is attracting the best minds from around the country, stressing that 232 winners of All-Russia and regional contests came to Novosibirsk University this year. 58 joined the Physics Department.
President Vladimir Putin has set a goal for at least five Russian universities to be in the top 100 in global rankings by 2020, he said.
University planners are drawing up a 'road map' for the institution's development in close consultation with officials from the Ministry of Education and Science, and deputy minister Igor Fedyukin spent a day August in detailed talks on the priorities.
Novosibirsk is one of 15 Russian universities where new schemes of development are being worked out.
'Young people are working in the ministry now, they speak this language - road maps, competence, project office - so we must learn this language too, there is just no other way,' said Fedoruk.
He expects the full blueprint for the university's future direction to be agreed by November, after which it will be passed to the government including possibly President Putin.
It is already clear, though, that the first strategic task will be 'securing the leading position of Novosibirsk University in the market of educational services for training the future intellectual elite of Russia for science, education and business. This task will remain forever', he said in quotes released by the Siberian Branch of Russian Academy of Sciences PR centre.
He spoke of the university's success in securing major grants from the Ministry. 'We are number two after Moscow University on this,' he said.
Mikhail Fedoruk was elected rector 30 years after graduating from the university's Physics Department.
In 1985, he completed his postgraduate course at the Institute of Theoretical and Practical Mechanics of the Siberian Branch of the Russian Academy of Sciences. From 1994-2003 he was senior scientist at the Institute of Computer Engineering of the Siberian Branch, then deputy head of the Institute responsible for scientific research. For the past nine years he was deputy dean of the Mechanics and Mathematics Faculty of Novosibirsk University.