---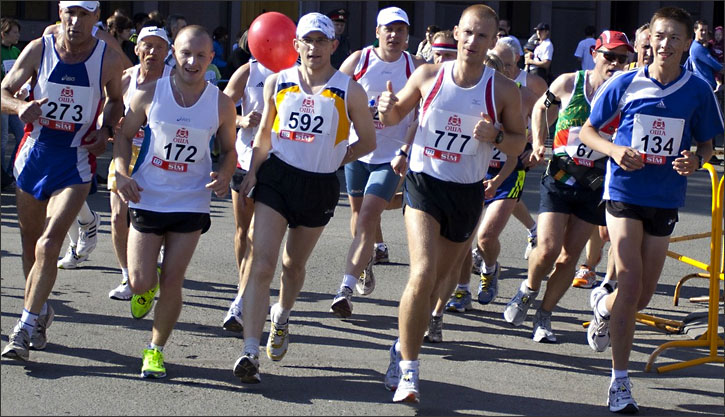 The heat here is insane', said one of UK participants, Stuart Warren. Picture: Siberian International Marathon
Temperatures in Omsk hit a roasting 37C this weekend and could be as high as Cairo when the starting gun is fired.
The Western Siberian city is forecast to be hotter on Sunday than Addis Ababa, Bali, Barbados, Malaga, Muscat and Nice for the annual event.
For the first time, the marathon is being run at 17.00 to coincide with the start of the Olympic event in London. Normally it starts in the cool of the morning, but the change means the first part of the event could be in roasting late afternoon temperatures, before the air cools in the evening.
For many runners, it maybe more tempting dive into the Irtysh River than complete the 42 km course.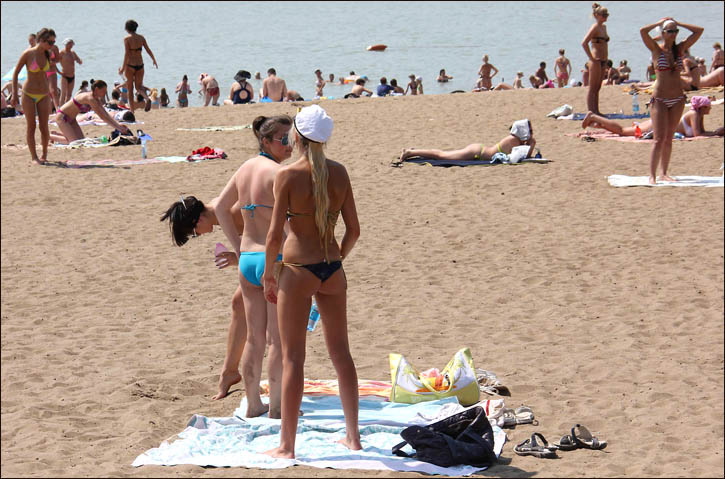 Irtysh river beach, Omsk, Western Siberia. Picture: The Siberian Times
Andrei Sandalkin, Managing Director of Omsk Marathon said: 'There is hope that by the start of the marathon the heat will go down to 28C - which by international standards is still critical.
'It means that we have got to take extra measures to ensure all runners are in good health.
'We have prepared extra amounts of water all along the route, and there is a reserve car with water ready to come to any point to top up supplies.
'We are using water sprayers too - but we have to be careful not to use too many of them, or it will have a wet sauna effect for the runners.'
He stressed: 'We are all geared up for the hot weather. But I truly hope no-one will need our assistance, and everything will be fine.
'It is the first time that the marathon starts at this time. In all previous times runners started in the cool of the morning, and were finishing in the heat of the day.
'This time, because we start later it will be other way round: they will be starting on the peak of the heat, which should quite soon drop down.
'Of course we have ambulance services, and we've used the local media to warm people against overestimating their abilities.
'When its so hot, a marathon - which is anyway a challenge for any organism - can become a true stress.'
He warned participants to take care of their health in the unusually hot summer temperatures.
'Our advice is to not force yourself to get to the finish, but leave the marathon altogether and give yourself a break.
'In such heat its better to stop and not finish, than have problems with health later.
'The marathon will finish quite late at night, so we have arranged special buses which will be taking participants to the different ends of the city'.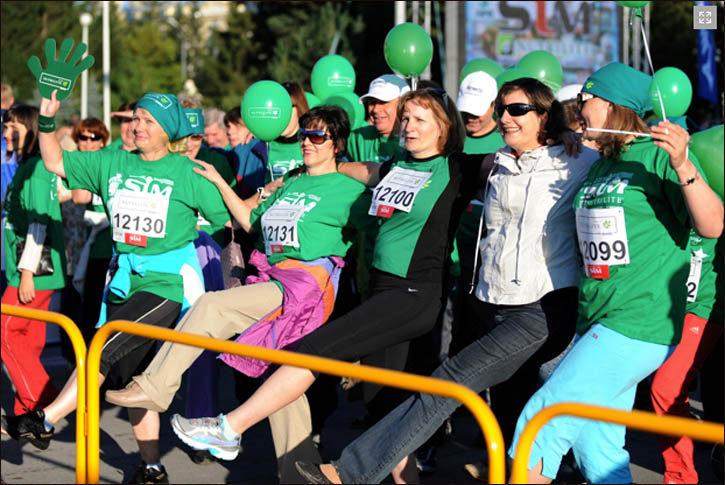 Supporters cheer on runners of 2011 International Marathon in Omsk, Siberia. Picture: Siberian Marathon
Running coach Boris Zhgir, a Master of Sports, had this advice for the 2012 marathon: don't start if you feel you won't cope with the oven-like temperatures.
'The biggest problem will be the heat,' he said. 'And really, if you feel nervous about running at such high temperatures, you are better not starting.
'For those who will run, do follow the basic advice: dress in light and cotton-only clothes, have a well-ventilated cap on your head, drink a lot, plus put Vaseline on your toes and underarms. Clothes will get dry on you and will start rubbing the skin.
'Have some basic food before the start, nothing too salty or smoked, no new foods. The ideal is something like porridge and cheese - and not too fat.
'Keep running at a more or less constant speed, and in no case pour your head with water. It will create the same effect as a sauna. Also the water should not be cold.'
Foreign runners were advised to take special care, and not to believe all they have learned about Siberia being cold.
Among the participants are runners from Africa, the US, and Britain.
'Prospective runners should take note that, although it is Siberia, temperatures can reach up to 30-40C at this time of year,' said marathonrunnersdiar.com
This is the 23rd Omsk marathon, a tradition that began at the end of Soviet times.